I was in search of an affordable or decent-sized garbage disposal for my hostel room. So, I shortlisted three disposals from the InSinkErator's budget line. I never knew selecting one from the three units that were almost identical was difficult. I kept my research on point and came up with a few differences between InSinkErator Badger 1 vs 100 vs 1XL that make me decide instantly.
You will find no prominent differences among the three disposals when discuss casually. In this regard, various garbage disposal users' reviews are combined to confirm that these are different regarding pricing, amperes, and warranty. Also, badger 1 includes an optional power cord while the two are devoid of the accessory.
Three garbage disposals serve well to consumers with their features. Even if you find difficulty in selecting the best for your small size area, read the article to know the insights of Badger 1, 100, and 1XL.
InSinkErator Badger 1 Vs. 100 Vs. 1XL – Overview
Knowing how well three Badger garbage disposals are similar to one another if you are given the task of finding the differences, there is no hardcore test than this. In this regard, do not worry as I ease you in explaining the differences that go unnoticeable more often. Also, you need to know the homogenous characteristics to extract what makes them apart.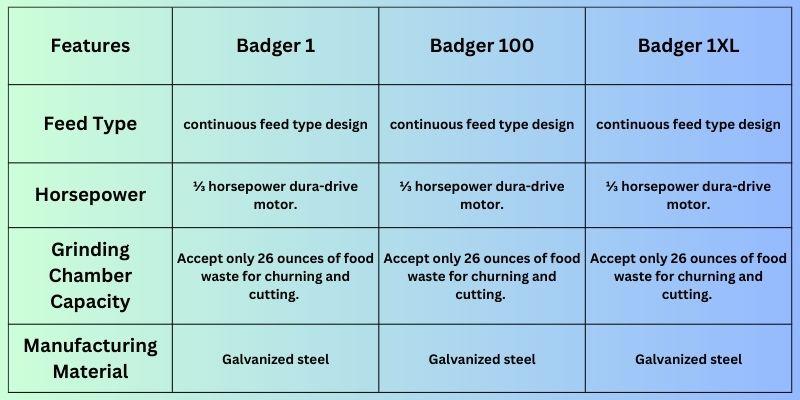 Feed Type
Badger series garbage disposal, such as 1, 100, or 1XL IS designed to manage food waste in continuous feed type design. It means you can run the disposal unit as long as power is on and saves time in dumping it all at once without dividing it into batches.
Horsepower
All three Badger garbage disposals consist of 1/3 horsepower dura-drive motor. It falls in the lowest power range but meets the expectations if used occasionally for not more than two people. Also, a scheduled maintenance plan can only prevent units from breaking down.
Grinding Chamber Capacity
Another similar factor that declares the three units identical is grinding chamber capacity. The behind reason this is the same dimensions of height and width that make them accept only 26 ounces of food waste for churning and cutting.
Manufacturing Material
As the features are entry-level, so does the material. You can get only for what you pay and nothing premium. Badger 1, 100, and 1XL are made of not-so-durable material, that is galvanized steel.
What is the Difference Between Badger 1 and Badger 100?
Many say you can only differentiate the Badger 1 and Badger 100 by noticing the stickers on respective disposers. Otherwise, nothing can separate them. But what I find in the research is that they differ not only in pricing but in amperes and inclusion of power cords.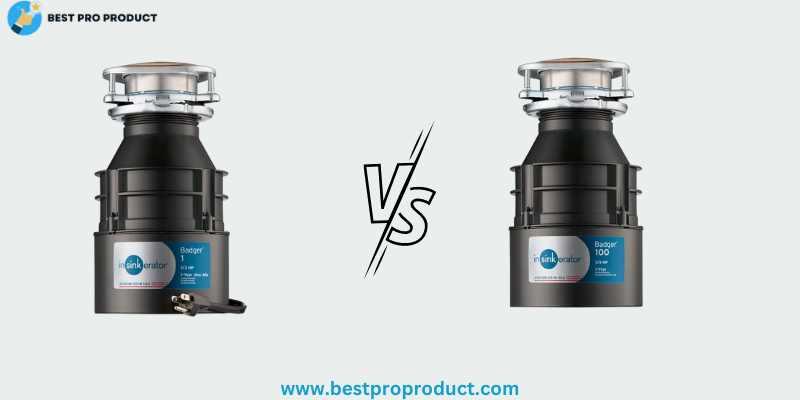 Power Supply in Amps
Badger 1 significantly uses the power supply of 5.6 amps to run the disposal whereas the Badger 100 increase the value to 6.7 amps.
Power Cord
Generally, InSinkErator does not include a power cord, but Badger 1 belongs to the budget line that comes with the power cord. On the other hand, Badger 100 does not have this extra accessory. If you want it, purchasing separately will be the option.
Note: For mor detail about corded and non-corded disposal read our guide "Garbage Disposal Corded vs Non-Corded | Which one is Better?"
Price Range
Badger 100 is available at Home Depot whereas the Badger 1 has its product supply online. Also, the former will cost you 20 bucks more with no additional facilities like noise insulation, or anti-reverse features.
What is the Difference Between Badger 1 and 1XL?
Badger 1 and Badger 1XL are like the two names of the same disposer unit. Still, they are separate when discussing the warranty period and cost difference. However, the factors cannot be declared authentic differences, but only this way you believe them standing across borderlines.
You can pick Badger 1 at the price of around $100 with a 1-year warranty. Whereas Badger 1XL is sold exclusively above $100 with 1 year plus 1-year warranty at Lowe's.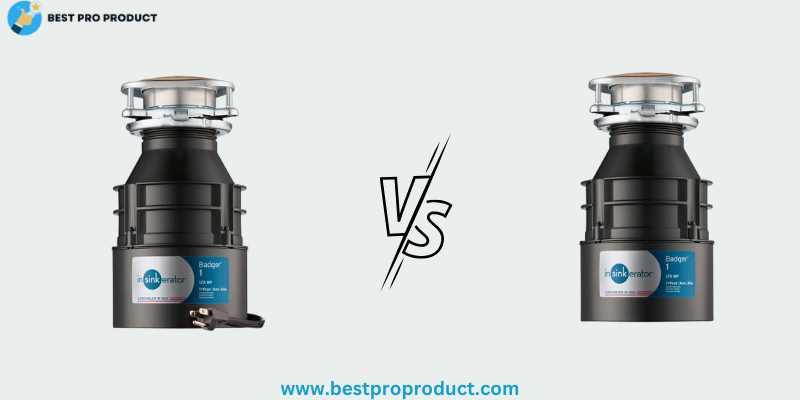 What is the Difference Between Badger 1XL and 100?
Badger 1 and 100 comprise the same design, feed type, and grinding elements. so, finding leading differences is impossible. Even then, the price range and their availability at different outlets make them two different appliances.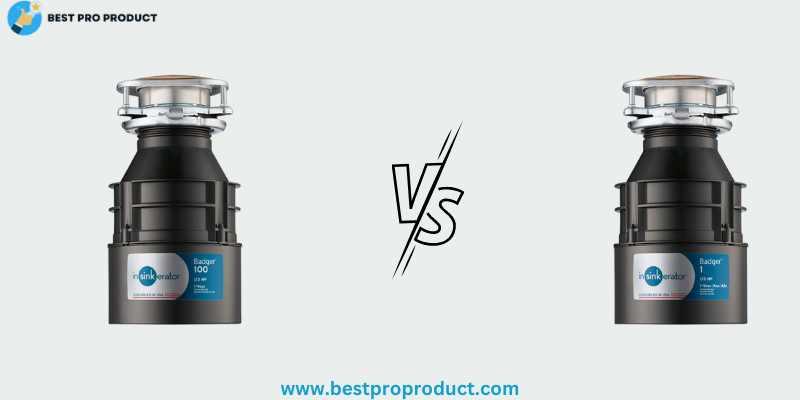 1/3 HP vs 1/2 HP Garbage Disposals
When weighing the choice between 1/3 HP vs1/2 HP garbage disposals, it's crucial to assess their performance and their suitability for your kitchen. The 1/2 HP Garbage Disposal model excels at efficiently grinding tough food scraps, while the 1/3 HP may struggle with denser waste. Consider your usage and household size to make an eco-friendly and budget-conscious decision.
Do Insinkerators need to be cleaned?
InSinkErators demand cleaning and techniques to eliminate unpleasant odors. All the methods you apply for this purpose are meant to keep the unit in tip-top condition and make it ready for the next food processing with no traces of food build up.
How long does a Badger 1 garbage disposal last?
Badger 1 comprises a relatively low value of longevity. With adequate maintenance, they last only 7-8 years which is far less than what is considered as average garbage disposal life, which is 10-12 years.
Best Insinkerator Garbage Disposals
The Badger series features some of the best Insinkerator garbage disposals on the market. Known for their affordability and reliability, Badger disposals come in various models, catering to different household needs. They excel at efficiently grinding food waste, making kitchen cleanup a breeze while reducing environmental impact.
Bottom Line
Three of the garbage disposals are great for handling light-duty food waste in small kitchen setups. As you know these are the exact duplicate of one another, your preferences and price divide them into categories. The article describes a few differences between Badger 1, 100, and 1XL you can memorize and help those who are in confusion.
Asad is a garbage disposal enthusiast, mechanical engineer by education, and the visionary founder of Best Pro Product. Asad's journey has seamlessly blended his engineering acumen with his passion for kitchen gadgets, leading to the creation of a go-to online platform for homeowners and DIY enthusiasts seeking expert guidance on garbage disposals. His meticulous research, hands-on testing, and insightful reviews have established him as a trusted authority, while his commitment to sustainability resonates through his advocacy for proper waste disposal and reduced food waste. Asad's interactive engagement with his community and his penchant for experimenting with new recipes make him not just an online resource but a friendly companion for those navigating the world of kitchen appliances and eco-friendly living.