Being new to garbage disposal usage, at the same time, excited to introduce your kitchen with a trendy clean-up machine, there is no best option other than looking for ½ hp garbage disposals. From where to start and where not must take a toll on you. To save yourself from tiring hours of search why not read my guide on the 7 best 1/2 hp garbage disposals so that understanding the innovative technology becomes easy?
Below mentioned are shortlisted garbage disposals from different brands that prioritize efficient grinding, high-speed motor working, and impeller rotation. You can select any one of them and reduce the time you clean the mess after cooking.
Unboxing
Waste King garbage disposals are my personal favorite after InSinkErator. Since the biggest advantage of choosing the brand is enjoying the facility of an included power cord, the product that I reviewed is L-2600 1/2 hp garbage disposals. Upon unboxing, I got a Disposal Unit with an attached power cord, a removable Splash Guard, EZ mounts, and an Instructions Guide. At the same time, the installation parts, such as the sink flange, drain stopper, and drain elbow were also packed for a full-fledged convenient setup.
Review
The grey-colored appliance had a wide body from the above while the slim bottom was equipped with a reset button on the front side and an attached power cord. Another thing that caught my attention was the shape of the disposer which was a lookalike of the mushroom.
Testing the garbage disposal means undergoing the process of installation. The standard-sized L-2600 did not budge from the place when I adjusted it using EZ mounts. It took me 20 minutes to get done with the garbage disposal installation and I was pretty excited utilizing it.
Moreover, what impresses me is the coupling of the 2600 RPM speed that the permanent magnetic motor uses and handles ordinary or somewhat tougher organic waste, such as vegetable peels and small chicken/beef bones.
Also, the grinding components are of stainless-steel material to let go of the tension of seizing due to corrosion. Additionally, you do not have to listen to the unwanted vibrations during the disposal' running because the components involved in cutting and grinding are insulated.
The waste king L-2600 is regarded as probably the most featured garbage disposal under $100 offering the removable splash guard to let you meet your cleaning requirements. Plus, it has a plastic grind chamber to digest the waste as a result of the cooking variety of dishes. It is undoubtedly unbeatable with its competitors, such as Waste King L-1001 having a smaller size.
Key Specifications and Features
Feed Type: continuous feed
Horsepower: 1/2 HP
Weight: 7.8 pounds
Speed: 2600 RPM
Grind Chamber Capacity:
Grind Material: stainless steel
Chamber Material: polymer
Motor: permanent magnet motor
Mounting System: EZ mount for easy installation
Warranty: 5 years
Power Cord: 36 inches pre-installed
Pros
The garbage disposal ensures reliability.
The functioning of the garbage disposal is great in handling food waste.
L-2600 let the components run smoothly without making ear-piercing noise.
I found the Waste King L-2600 a good value-for-money product.
Cons
The build quality could be better.
Foul odors and frequent clogging are major issues related to L-2600.
Why Should You Buy It?
You should buy the Waste King L-2600 due to three main reasons
It is budget-friendly
L-2600 is quieter than others of the same category
It comes with a power cord to save the time you set out to buy a separate one.
Why Should You Don't Buy it?
You must not buy Waste King L-2600 due to the somewhat lengthy power cord and a slightly bigger size that would create problems during installation.
Final Verdict
Waste King L-2600 is a must-buy, for it works more promising than its competitors, specifically L-1001. Since the price range has no prominent difference, why not stick to the one that serves better in all its features?
Unboxing
Waste Maid is another brand that pours quality in its model irrespective of whichever horsepower the disposal is. So, I decided to order the 1/2 hp model among many to evaluate whether it's worth the recommendation. The package contained a Garbage Disposal, an attached Power Cord, a Removable Splash Guard, a Stopper, a Dishwasher Connection, and Documentation.
Review
At first glance, the 1/2 hp garbage disposal impressed me with its robust design. Other eye-catching things for me were an additional dishwasher inlet, a power cord, and a front-facing reset button that made the appliance unique compared to other brands.
Since I used to install the InSinkErator garbage disposals, even then Waste Maid 3-bolt technology was not a new one and I succeeded in installing it after one or two trials. Thanks to the available power cord that saves my time in wiring it, otherwise finding a separate one to do the purpose could be another problem to deal with.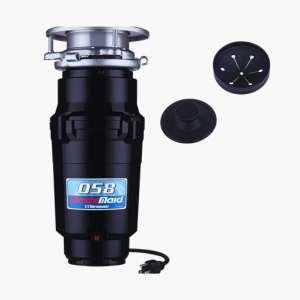 The standard-size 1/2 hp garbage disposals disappointed me a little bit because of the cold-rolled steel, which is not a durable device fighting against corrosion. But it is not a big deal when handled with care or precautions. Also, subside your tension because a removable splash guard lets you clean the disposal from every nook and corner and remove every trace of lint or rust.
Keeping these things aside, the performance of the Waste Maid garbage disposal is great. It easily manages your daytime cooking waste and nighttime fruit peels at the speed of 2600 RPM and doesn't let the food particles wait for a second round. The regular-sized grinding chamber does it all for once.
Being a low-powered garbage disposal, it makes little effort towards reducing the noise up to only manageable levels due to less noise-causing motor and turntable are appreciated for this. But on a serious note, if you want better noise masking, you can ask favor from the Waste Maid 458.
Key Specifications and Features
Feed Type: continuous feed
Horsepower: 1/2 HP
Speed: 2600 RPM
Grinding Chamber Material: cold-rolled steel
Grinding Chamber Size: Regular
Mounting System: 3-bolt for easy installation
Warranty: Lifetime against corrosion
Power Cord: 34-inches
Pros
The anti-jam feature ensures the disposal's long life.
The higher RPM motor does well in grinding food waste from soft bones to somewhat tougher food chunks.
Continuous feed design saves significant time.
Cons
The garbage disposal does not come with troubleshooting equipment.
The sound isolation is only average.
Why Should You Buy It?
There are many reasons to pick the waste maid 058 B.
It is cost-effective.
Removable splash guard eases rinsing and disposal cleaning.
1/2 hp motor handles waste of three-five family members.
Why Should You Don't Buy it?
Extra features are commendable only with premium models. The 1/2 hp Waste Maid with the sound deadening or anti-jamming feature is only the average level.
Final Verdict
The Waste Maid 1/2 hp garbage disposal is an affordable and practical option for those looking for a convenient solution for kitchen waste. While it may not be capable to perform the same regarding power and features as higher-end models do, even then it delivers a satisfactory performance for use in smaller families.
Unboxing
Moen does not bother including more-than-random features even in the startup series of garbage disposal. One such I reviewed is the prep series PRO 1/2 HP unit. Upon unboxing, I got a garbage disposal with a power cord, drain stopper, splash guard, drain elbow, mounting assembly, and Installation Guide.
Review
The black-colored disposal made me contended from the time, I unboxed it and hold it in my hands. The lightweight yet rugged body was nothing but reflected great performance. Also, the protruding power cord was a save-time accessory for easy installation.
I tested the 1/2 hp garbage disposal for a few months and concluded that it has some amazing features that make it stand out in the clan. Firstly, the lightweight physical design ensures that it can be placed without asking for a favor. Plus, the height it got is of the correct dimensions to fit under the standard-sized kitchen cabinet.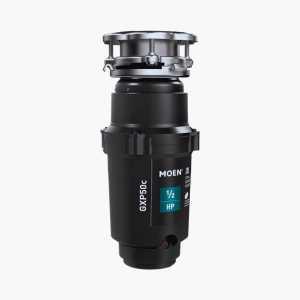 Furthermore, the prep series includes ½ horsepower and a vortex motor to grind the food scraps, such as celery, potato peels, seeds, or vegetable scraps. The process is combined with 2600 RPM fast-rotating impellers to cut the waste in no time.
Moen Pro's other helpers, such as stainless-steel grinding components protect every nook and corner from corrosion buildup. No matter how much cold water you flush, it is nothing to do with the garbage disposal jamming or humming noises.
Moen PRO 1/2 hp is worth the investment but for only alternate days usage. What you must do is spend more cash and bring home InSinkErator Badger 5XP, which is a good value product by offering 3/4 hp and Quick Lock installation.
Key Specifications and Features
Feed Type: continuous feed
Horsepower: 1/2 HP
Weight: 9.64 pounds
Speed: 2600 RPM
Material: stainless or galvanized steel
Grind Chamber Material: corrosion-proof polymer
Motor: vortex motor
Mounting System: 3-bolt for easy installation
Warranty: 5 years
Power Cord: included.
Pros
The 5-year long warranty is a great deal with a 1/2 hp disposer unit.
The power cord is a time savior in the installation process.
I found the garbage disposal pocket-friendly.
Cons
The garbage disposal is comparatively loud.
The build quality of the garbage disposal is questionable, mine broke after one year.
Why Should You Buy It?
You must buy the Moen Prep Series 1/2 hp garbage disposal due to the longer warranty, easy installation system, and high-speed motor. The continuous feed design allows you to carry on kitchen cleanup.
Why Should You Don't Buy it?
The reasons you must not consider buying Moen garbage disposal due to not-so-extraordinary build quality. Leaking, machine seizing, and power sockets not working are major issues.
Final Verdict
If you are not affected by the common issues and intend to troubleshoot them, the Moen Prep Series PRO 1/2 hp garbage disposal serves you best. It provides nothing extra but not less in an affordable price range of around $100.
Unboxing
Another Waste King product that goes in the list of the best 1/2 hp garbage disposal is due to its great performance. The newcomer is Waste King L-1001 which found its similarity with L-2600. So, I ordered it to test the features personally. After unboxing, the things I got were pretty same, such as slim-fit garbage disposal, Installation Parts, and Instruction Manual for installation and troubleshooting techniques.
Review
L-1001 got succeeded in impressing me from the start. The reason was the cylindrical and compact shape aiming to fit nicely under the cabinet. Plus, the available power cord and drain stopper emphasized that the manufacturers produced a heavy-duty product.
Like its other companions, Waste King L-1001 exhibit EZ mounts so that you have no problem with first-time installation or replacing similar-performing units. Also, the height and the width of the 1/2 hp unit are favorable to place it in connection with regular sinks.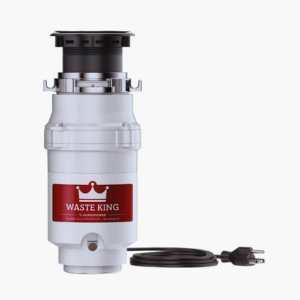 I often recommend L-1001 because it contains three different materials for different components. The first mentioned is the grinding chamber which is made of glass-filled nylon and later on comes grind components that are equipped with galvanized steel. Both are considered a level below stainless steel but perform alike in preventing the disposal unit from rust and corrosion.
In addition, the removable sink flange with stainless steel finish serves a dual purpose. It lets me clean the entire unit without dislodging it and keeps me conscious and free of the food particles coming back to the sink. In my point of view, L-1001 is amazing compared to GE ½ hp which has no power cord nor is cost-effective.
However, the garbage disposal is suited for small families and cannot handle large gatherings. Also, you are allowed to stuff soft, and chewable, and those scraps that need less grinding in L-1001, to not burden the permanent magnet motor.
Key Specifications and Features
Feed Type: continuous feed
Horsepower: 1/2 HP
Weight: 7.5 pounds
Speed: 2600 RPM
Grind Chamber Capacity: 27.3 ounces
Grind Material: galvanized steel
Chamber Material: polymer
Motor: permanent magnet motor
Mounting System: EZ mount for easy installation
Warranty: 2 years
Power Cord: 32 inches pre-installed
Pros
The build quality of the garbage disposal is satisfactory.
Installing the L-1001 is a breeze.
The grinding chamber capacity holds my one-time food waste.
L-1001 is quite budget-friendly.
Cons
The garbage disposal does not reduce even a bit of generated vibrations or noise.
Avoid moving the disposal frequently, for it will fall off.
Why Should You Buy It?
L-1001 comprises a high-speed motor that works like a robot to grind a variety of foodstuff. The diligent appliance comes with a removable flash guard, elegant looks, and over the top it has a power cord to save you time in finding the compatible one.
Why Should You Don't Buy it?
Buying or not buying L-1001 depends on the question of how you treat it. I observe it as a delicate machine that may fall off when moving a bit. In addition, garbage disposal has nothing to do with effective sound deadening.
Final Verdict
Waste King L-1001 lets you obtain so much without breaking your budget and compromising on your preferences. All you need is less than a dollar hundred and have a facility to rescue the kitchen refuse timelessly. Also, the odorless kitchen is a bonus. So, what are your thoughts?
Unboxing
The next one is in my list is from InSinkErator's standard series. I stress about adding the Badger 5 to my review analysis because the specifications are what you desire. After receiving the parcel, I can't resist and unboxed it to find the Disposal Unit, an Instruction Manual, a Power Cord, and spare parts for installation.
Review
Unboxing the package, I realized that the product under analysis was the same as everyone talks about, a duplicate of the Badger 1. From the same professional manufacturing having a power cord to the stainless-steel chamber and continuous feed design, I could not find prominent differences. However, the weight was more than its counterpart for the assigned horsepower.
I stopped my critical analysis between Badger 1 and Badger and pay attention to the ways of placing the disposal unit under the kitchen cabinet. Since the dimensions are compact, not more or less than the standard inches, I felt positive vibes from the start. Plus, the appropriate 5 pounds of the device combined with the Quick Lock mechanism shrink the process of installing it from hours to minutes without any trouble.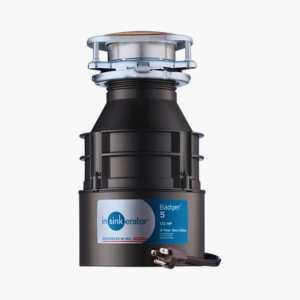 Furthermore, the construction of the garbage disposal is quite appreciated because it is made from stainless steel which confirms its everlasting durability. The grinding chamber and the grinding components use both galvanized and stainless steel so that you left the worry of dealing with uninvited rust every time the garbage disposal is flushed with cold water.
Another interesting point of the Badger 5 is that it contains a grinding chamber of 26 ounces. It means you have a fair chance of putting almost everything of the generated fruit peels or vegetable scraps all at once without waiting for the second round. Also, the 1/2 hp horsepower makes a quick action to let go of the waste to the sewers.
The features of the Badger 5 explain the presence of a zinc drain stopper preventing the inside stuff and water from coming out during the device's operation. At the same time, the Dura-drive induction motor turns at 1725 RPM speed and helps ease the food cutting and processing with no frequent clogging.
Still, Badger 5 garbage disposal is not without its drawback. The motor is only ½ horsepower and restricts you to run it again and again. Also, the cooking routine and waste generation of more than three to five people is a big no Badger 5.
But not to worry as I tested the machine, and it is sufficient for a small family with no frequent repair. However, there are other InSinkErator garbage disposal options for you, available only in the high price range, such as InSinkErator Badger 5XP with higher horsepower.
Key Specifications and Features
Feed Type: Continuous Feed
Horsepower: 1/2 HP
Grinding Chamber: Galvanized and stainless steel
Weight: 13.6 pounds
Speed: 1725 RPM
Power Cord: included
Grinding Chamber Capacity: 26 oz
Warranty: 2 years
Motor: Dura-drive induction motor
Pros
The adequate horsepower motor is efficient for handling everyday food scraps.
The included power cord is a plus point; saves time when installing the unit.
The appropriate rotating speed grinds food within seconds.
Cons
Garbage disposal is poor in reducing vibration and noise.
Continuous feed design may invite accidents if used without precautions.
Why Should You Buy It?
Badger 5 includes every feature for fulfilling the requirements of domestic households. What if is not capable of hosting parties, the unavoidable thing is how diligently it reduces food particles that you generate daily. Another thing that you may notice is that the disposal unit is made to be in the hands of every consumer because of the budget-friendly price it comes in.
Why Should You Don't Buy it?
You deny the Badger 5 purchase only because no luxury services, such as anti-jamming, sound insulation, or multi-grinding stages are available.
Final Verdict
InSinkErator standard series Badger 5 is ready to add to the crowd of appliances in your kitchen. It is undoubtedly less in price but not in performance and functions. So, what are your thoughts on sealing the deal and upgrading the way of doing dishes?
Unboxing
Moen GX50C is included in my list of the best 1/2 hp garbage disposal due to its overwhelming rating after InSinkErator. It came to me in a nicely packed box, and I open it to find a Garbage Disposal, Installation Components, and Manual Instructions.
Review
The beautifully designed garbage disposal with the web of vertical lines gave the plastic body an elegant touch. It looked nothing different from the higher-end models and made it stand out from the start. I never forgot how easily it was installed under the kitchen cabinet where I kept a lot of laundry products. The compact shape did not bother when holding it in place and was linked with the sink by the available Universal Xpress mounting system.
The garbage disposal contains stainless steel grinding components that make food particles in a liquid form in no minute, leave them in the drainpipes, and prevent rust buildup. Also, the plastic grinding chamber is at no risk of collapsing during food processing. However, you must avoid throwing pointy or kitchen cutlery into it.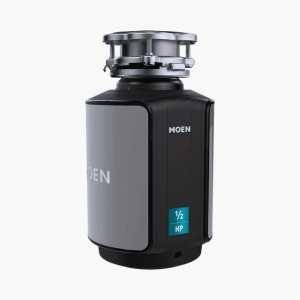 Moreover, the high-speed 2600 RPM vortex motor makes me satisfied in dishing out smaller pieces of somewhat harder waste. However, you must not overload it even a bit, for it increases the chances of clogs. But worry not, the removable splash guard is another impressive thing to get access to the grinding chamber whenever you schedule the unit maintenance for minor jams.
The standout point of the Moen GX50C is Sound Shield technology that aims to reduce disposal-generated vibrations and let you feel at ease during functioning. I found the garbage disposal quieter compared to standard disposals of the same category. As you get to know that the garbage disposal uses polymer material for the grinding chamber, why don't you upgrade your appliance to Emerson Evergrind E202 containing a stainless grinding chamber in
Key Specifications and Features
Feed Type: Continuous Feed
Horsepower: 1/2 HP
Grinding Chamber: corrosion-proof polymer
Grinding Components: stainless steel
Weight: 12.3 pounds
Speed: 2600 RPM
Power Cord: pre-installed but can be removable
Warranty: 5 years
Motor: Vortex motor
Mounting Assembly: Universal XPress installation mounts
Pros
You can remove the power cord for the intention of hard-wiring garbage disposal
The sound shield technology is satisfactory
The high-speed motor leaves no food untreated
The GX50C gets along well with the septic tanks
Cons
The polymer grinding chamber scores less compared to stainless steel.
Why Should You Buy It
You must buy GX50C because it comes with a pre-installed power cord that you can remove at any time, depending on the type of wiring. Also, it claims to be the better version among many 1/2 hp garbage disposals due to 360-degree rinsing technology to let water run down at ease.
Why Should You Don't Buy it?
Some of the reasons you do not get your hands on Moen GX50C. Firstly, it has a polymer grinding chamber which is not very durable as compared to stainless or galvanized steel. Plus, garbage disposal is a plastic body that becomes the victim of cracks anytime.
Final Verdict
Moen GX50C garbage disposal is an efficient kitchen appliance that ensures impressive performance and a range of accessible features. From its powerful vortex motor to its SoundSheild technology, the GX50C leaves its mark on many in search of an affordable yet workaholic disposal unit.
Unboxing
Frigidaire is a competing brand of garbage disposal compared to reputable brands. When I got the chance to review one of its garbage disposals, my finger pointed out at the ½ horsepower unit. What I received in my box was the Garbage Disposal with a plug-in cord, Manual Instructions, and other Installation Parts.
Review
The compact design in gray shade looked different from the models of overheard brands. The specialty lies in the plug-in cord attached to the disposal body that not every garbage disposal is equipped with.
On a serious note, I have a bit of difficulty adjusting the disposal unit underneath my kitchen cabinet using a 3-bolt mechanism. Overall, Frigidaire had no complaints later on regarding extra space. In addition, the continuous feed design activates by flipping the switch and lets you add leftover organic garbage for processing.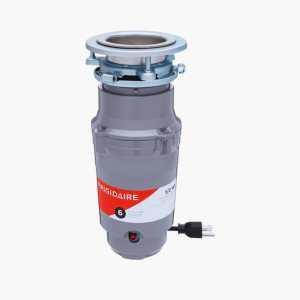 The hidden component working in the background is the 1/2 hp motor and the 2600 RPM speed that generates enough grinding power to accept food waste of the medium-sized family. Also, it holds waste, particularly from the category of small/fish bones and banana peels. But if you choose tough food scraps, trying Frigidaire B08SDXLCH1 is a convenient option because it comes with 2700 RPM to grind tough food scraps rapidly.
You also impress after knowing that the standard powered Frigidaire garbage disposal contains stainless steel material not to get attacked by rust by continuous water flushing. Plus, it makes you at ease by keeping the tension of frequent repairs at a distance.
Another interesting thing about the product under observation is that it comes with a removable splash guard just like the Waste Maid garbage disposals to ensure the safety of the things not reversed. Also, foolproof cleaning is at hand due to the antimicrobial odor protection layer to remove foul odors.
Being a low-powered garbage disposal, Frigidaire offers 6 long years of warranty and the period increased for a lifetime against corrosion. Additionally, a partial sound shell is also molded inside the body to reduce the noise to some extent. Although the technology is not as good as the premium models of the InSinkErator Quiet series, the performance is satisfactory.
Key Specifications and Features
Feed Type: Continuous Feed
Horsepower: ½ HP
Speed: 2600 RPM
Construction Material: stainless steel
Weight: 10.3 pounds
Mounting Assembly: 3-bolt design
Power Cord: plug-in power cord included
Odor Protection: antimicrobial odor protection inside the body
Sound reduction: partial sound shell reduce noise
Warranty: 6 years
Pros
My garbage disposal is stink-free only due to antimicrobial odor protection.
The installation of the disposer becomes a breeze with a plug-in power cord.
The sound reduction is satisfactory.
The design is compact and saves a lot of space under the cabinet for other things.
Cons
The continuous feed requires fast action to add food scraps once the disposal turns off and may invite injury or accident.
I feel the water drain slowly
The motor of the garbage disposal is comparatively loud.
Why Should You Buy It?
All the features, such as continuous feed design, sound reduction technology, included power cord, and 3-bolt mounting system attract you to buy the Frigidaire ½ garbage disposal. At this price range, you get more features compared to regular disposal units.
Why Should You Don't Buy it?
The only reason you should not get the Frigidaire disposer is its capacity to handle the food waste of a few members. If you are fond of parties or dinners, I advise you to look for a product with higher horsepower.
Final Verdict
Frigidaire 1/2 hp garbage disposal does pretty well with the available features. You must try this emerging brand while leaving the regular brands to know it's worth yourself. I mean what else do you want when you have stainless steel material available to you at an initial level with larger values of grinding chamber capacity of 29.8 ounces?
Is 1/2 hp Garbage Disposal Enough?
Garbage disposals irrespective of whichever brand they belong are available in a variety of horsepower values, ranging from 1/3, 1/2, 3/4, 1, hp and going even higher. What you must do is estimate the three things to emancipate the question of how to choose garbage disposal. You ask in what ways 1/2 hp garbage disposals is enough, think about how many persons add to the total waste, cooking routine, or running schedule of the garbage disposal.
1/2 hp Works Great for Small Families
The general formula is, the fewer persons the less garbage to grind, and 1/2 hp garbage disposals works diligently. As already mentioned, less horsepower is only suitable when you have a household of 2-4. Only this way, you are assured that the machine is safe from clogging or other problems.
1/2 hp Requires Running Once or Twice a Week
1/2 hp garbage disposals are designed to work once or twice a week. Why? Because the motor and other grinding components use only desired power supply to be effectively run on the recommended schedule and not more than this. If you want it to run daily, it breaks down.
1/2 hp Handles Less Variety of Food Waste
Since the 1/2 hp garbage disposals ranks considerably low on the scale, the know-how of the variety of food to be dumped inside is crucial. Like bigger disposals that even accepts prohibited food items, but 1/2 hp garbage disposals handle only what is recommended and in small chunks. For example, if you are up to adding chicken bones or banana peels, cut them into pieces so that they do not wrap the impellers and churn per routine.
How Many Amps Does a Half-Horse Garbage Disposal Use?
The less-powered garbage disposal needs fewer amps so that the circuit adjusts the current flow. Typically, most 1/2 hp garbage disposals need 9.8 amps, you can consult an instruction manual of the particular model you need a circuit.
What is the Standard Garbage Disposal Size?
Garbage disposal changes the size depending on the higher horsepower and number of insulation layers. If you ask for standard-size garbage disposal, the dimensions must be between 5-6 inches in diameter and 1 foot in height.
Bottom Line
Choosing garbage disposals may seem tiring and not everyone's cup of tea. The technology is innovative and takes time to understand its functions. Looking for a device that provides all the features without increasing the load on the wallet may become hectic. You must try your best 1/2 hp garbage disposals. In this regard, the article explains every minute detail with the pros and cons of 7 tried and tested 1/2 hp disposal units so that you decide within minutes.
Asad is a garbage disposal enthusiast, mechanical engineer by education, and the visionary founder of Best Pro Product. Asad's journey has seamlessly blended his engineering acumen with his passion for kitchen gadgets, leading to the creation of a go-to online platform for homeowners and DIY enthusiasts seeking expert guidance on garbage disposals. His meticulous research, hands-on testing, and insightful reviews have established him as a trusted authority, while his commitment to sustainability resonates through his advocacy for proper waste disposal and reduced food waste. Asad's interactive engagement with his community and his penchant for experimenting with new recipes make him not just an online resource but a friendly companion for those navigating the world of kitchen appliances and eco-friendly living.