I was reluctant to enjoin my fireclay sink with garbage disposal. The reason was nothing special but the thickness of the sink material that may create problems after installation. So, what did I do was to collect the key knowledge on Can You Put a Disposal in a Fireclay Sink and thorough research I am here presenting the basic guide you should know.
Despite having thick glazed clay material, you can put a disposal in a fireclay sink. My experience says that disposers do not harm innovative modern-style sinks if follow the proper measurements of disposal along with the sink and match the compatible disposal flange during installation.
In this article, I will mention the specific requirements you must keep in mind if intended to put a disposal in a fireclay sink.
Can You Put a Garbage Disposal in a Fireclay Sink?
Garbage disposal is blind enough to recognize what sink you have attached to it. No matter whether it is a fireclay or a standard sink, you will always find it giving its best in performance and food processing. Yes, you can put a disposal in a fireclay sink, for it is durable enough to bear the vibrations of the disposal unit. Even then, taking precautions is crucial for better working.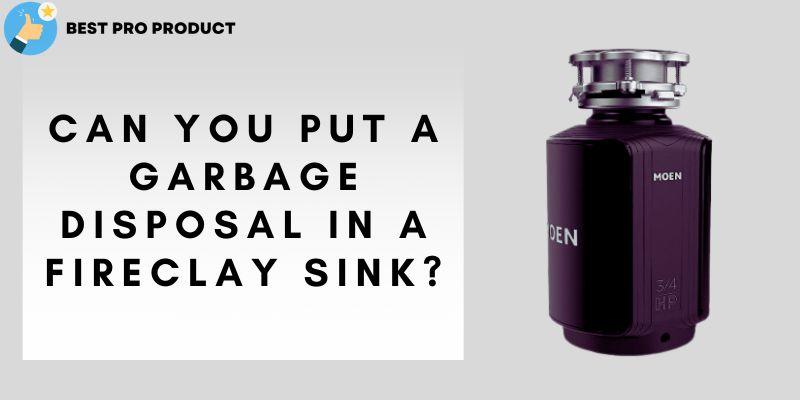 Spacious Space
As the sink goes deep, the space beneath the sink reduces to no inches. The essential aspect of putting a disposal in a deep fireclay sink leaves you with two options.
Either customize the cabinet space according to the model you want to install.
Relocate the plumbing lines and shift the things residing below the old cabinets to get the desired free space.
Extended Disposal Flange
A disposal flange for garbage disposal is the main highlight of the story that makes or breaks the deal. You better know how important is the flange in connecting the sink and the unit. The majority of garbage disposal comes with standard holes to fit the sink openings.
On the other hand, the fireclay sinks comprise thicker material than porcelain, stainless steel, or ceramic, the standard 3 ½ inches disposal flange will crack the sink. You can find the solution by selecting the extended flange for the garbage disposal with 3/4 or 1 ¾ inches.
Note: disposal flanges come with garbage disposal but if you require something different from standard, you must purchase from the hardware store.
Disposal Height
What disposal height match with the fireclay sink is crucial? Because the right product with fine installation will make you happy with your choice. While under-sink space is a concern, you can't ignore the fact that disposal height is also important.
It does not make sense you have the free space, and you reach the higher inches of the disposal used for commercial purposes. I have a suggestion for you to choose a height not above 15 inches. The Insinkerator Evolution Compact is a suitable garbage disposal compatible with fireclay sinks.
Can You Use a Garbage Disposal with a Fireclay Sink?
Using a disposal with a fireclay farmhouse sink is only appreciated when you eliminate all the technical flaws when installing them.
Place cushioning material between the sink and garbage disposal.
Contact a professional plumber to reduce the impact of disposal vibration from reaching the sink.
Ensure drainpipes and valves match the weight of the garbage disposal before installation.
Always use the mounting hardware that comes with the disposal to avoid sink cracking.
Use a 3/4 hp food waste disposer, for it has great power to grind food waste in a go!
Fireclay Farmhouse Sink Pros and Cons
Garbage disposal and fireclay sinks prove to be the perfect match for your kitchen remodeling.
Pros of Farmhouse Sink with Garbage Disposal
Durability and Maintenance
Fireclay sinks are the type of farmhouse sinks that are deep enough to lose dishes in them. When you find it hard in rinsing them, garbage disposals come in handy. From a border perspective, the machine acts smartly and chops food particles until they reach the plumbing system.
Moreover, you find both components durable if they go hand in hand; one enhances the kitchen appearance and another disposes of food waste. However, you make a schedule plan for the garbage disposal maintenance to reap these advantages.
Grinding Power
Another benefit of having a disposal in a fireclay sink is the improvement in the grinding power it produces. High-powered garbage disposal from reputed brands joins their heads to give you the best horsepower so that your time and money seems worthwhile.
You can bring home InSinkErator Evolution Excel, for it comprises 1HP that disregard clog forming, avoid drain blockages, and handles tough food scraps with convenience.
Secure Fit
Fireclay is the topmost material of the farmhouse sinks combining clay and glaze. If you pay attention to its installation, only then you will receive the enjoyment of the advantage. The specialized sinks require an extended flange to fit with the disposal, providing a secure fit.
Cons of Fireclay Sink with Disposal
Less Compatible
Fireclay sinks and garbage disposals are hard-to-reach matches because the latter are manufactured to fit standard sink openings. The only way you can confirm the better fit is by changing the flange size. At any point, if you find it difficult in finding the suitable one, you cannot install a garbage disposal with it.
Costly Set-up
Fireclay sinks alone can burden your pocket. If you think attaching the garbage disposal, it has many hurdles to overcome. Finding the appropriate hardware, disposal trim, and adequate garbage disposal is undoubtedly a costly setup.
Prone to Chipping
Apart from being a tough manufacturing material, fireclay sinks are prone to chipping. Garbage disposal creates vibration and noise during running, and it has a direct impact on the durability of the sink and causes it to crack.
Do Dishes Break Easily in Fireclay Sinks?
Dishes may or may not be broken in the fireclay sinks. The reason is the great depth they are composed of. Also, it depends on the material of the dishes such as non-stick, ceramic, or stoneware, that can chip or form cracks leaving the stain on the sink body.
How Long Do Fireclay Sinks Last?
Fireclay sinks are manufactured from hot temperature treatments and are resistant to scratches and stains. These last you for many years only if you keep the necessary precautions and care, such as running cold water, rinsing with baking soda, and much more.
Bottom Line
You have the perks of garbage disposal no matter what style you choose for the sink. The thing that matters is the selection of a compatible disposal flange and underneath space to ensure a secure installation. In this article, I have mentioned the need-to-know information for putting a disposal in a fireclay sink with their pros and cons.
Asad is a garbage disposal enthusiast, mechanical engineer by education, and the visionary founder of Best Pro Product. Asad's journey has seamlessly blended his engineering acumen with his passion for kitchen gadgets, leading to the creation of a go-to online platform for homeowners and DIY enthusiasts seeking expert guidance on garbage disposals. His meticulous research, hands-on testing, and insightful reviews have established him as a trusted authority, while his commitment to sustainability resonates through his advocacy for proper waste disposal and reduced food waste. Asad's interactive engagement with his community and his penchant for experimenting with new recipes make him not just an online resource but a friendly companion for those navigating the world of kitchen appliances and eco-friendly living.