What makes InSinkErator Compact and Select Plus garbage disposals different is the most asked question. Here is the guide that explains InSinkErator Evolution Compact vs Select Plus so that selecting your best match.
Evolution Compact and InSinkErator Select Plus have their upbringing under the same InSinkErator Evolution series. The expected points, such as the changed physical appearance, better sound insulation, the addition of antimicrobial coating on the sink baffle in Select Plus, and the warranty proves them as separate entities.
The article refers to those points that make two garbage disposals different from one another. In addition, the similarities and a few frequently asked questions make you understand the device's working and troubleshooting.
Similar Specifications
Feed Type: Continuous Feed Type
Horsepower: ¾ hp
Grinding Stages: two-stages
Motor: Dura-drive induction Material
Construction Material: Alloy Stainless Steel
Grinding Chamber Capacity: 34.6 ounces
Speed: 1725 RPM
Installation: 3-Bolt
InSinkErator Evolution Compact vs. Select Plus | Difference
Finding the information that even the device's manual fails to provide is difficult. In that case, learn to see the differences not only by looking at them but by observing how InSinkErator Evolution Compact and Select Plus perform and function during testing. Here are my observations leading to the way of extracting opposite points.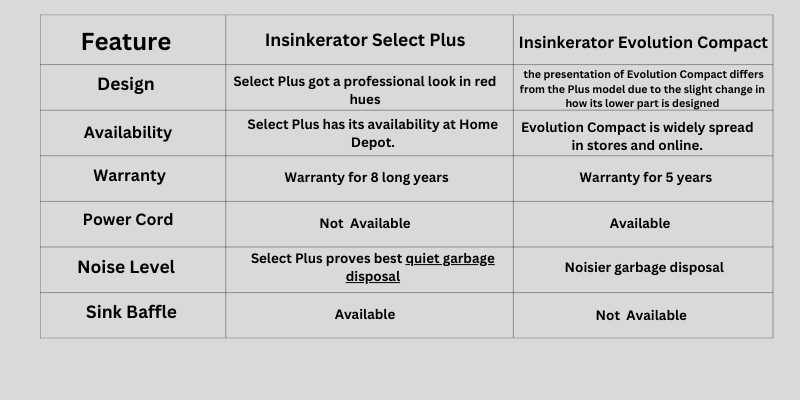 1. Select Plus has a Sleek Look than Evolution Compact
To solve the mystery of InSinkErator Evolution Compact vs Select Plus appear before the eyes, look at the color shades in which both garbage disposals are available. Plus, the lower design makes you recognize them in a go. Select Plus got a professional look in red hues. Also, the silver band with InSinkerator branding compliments the device. 
On the other hand, the presentation of Evolution Compact differs from the Plus model due to the slight change in how its lower part is designed. You must catch the initial sights where the compact has curves and reflects a different shape in a matte black finish.
2. Select Plus is Quieter Compared to Compact Garbage Disposal
Another deciding feature is the sound insulation between Evolution Compact and Select Plus. how far two reduce noise during food grinding is a must to know because they incorporate InSinkErator's Sound Seal technology like every premium model.
In this regard, Select Plus proves best quiet garbage disposal than Evolution Compact. The insulation materials along with the extra Sound Limiter layer surrounding the disposer show improved performance in reducing noise and vibrations.
On the other hand, Evolution Compact makes the best use of the Sound Seal but does not reach the height of what its competitor that is Select Plus does. S, the absence of an advanced extra layer makes it noisier.
3. Select Plus has an Antimicrobial Sink Baffle while Compact Doesn't
You may think that the sink baffle must not be present in one of the garbage disposals, and it is the primary difference. However, the situation is different and turns the focus toward the material from which it is made to prevent garbage disposal early damage.
Since both garbage disposals contain non-removable sink baffles, they are protected against spitting water and food chunks inside.
But the Select Plus has more to say and comes with an antimicrobial coating so that the disposer unit remains decay-free against excess water. On the contrary, Evolution Compact has only the facility of basic sink baffle function and lacks this layer in the presence of which bacteria stop growing.
4. Evolution Compact has an option of a Power Cord against Select Plus
You must hear that corded garbage disposals are accepted more rapidly than non-corded ones, for they handover ease during the installation process. How about the garbage disposal with the option of having a pre-installed power cord?
Evolution Compact lets you enjoy this service when pay an extra amount separate from garbage disposal. Unfortunately, Select Plus does not have a power cord. Although buying separately does not stand on the requirement of pre-installed, it is the ease that lets you connect your compact disposer to the power socket.
5. Select Plus Offers Longer Warranty Than Evolution Compact
How much time you enjoy free-of-cost garbage disposal repair falls in warranty tenure. In this regard, Select Plus has a slightly longer warranty period than Evolution Compact.
The period of 9 years is associated with the former while the latter has parts and an in-home warranty for 8 long years. Plus, the validity of these years restricts the usage of garbage disposal in domestic households. Whereas the time span reduces to only 1 year for commercial locations.
6. From Where to Get Garbage Disposal?
As the differences show enough proof being the devices are dissimilar, the location you can get these are also different. InSinkErator Select Plus has its availability at Home Depot. Whereas the Evolution Compact is widely spread in stores and online.
In the same way, the price of the garbage disposal with slightly better features, that is Select Plus is higher than Evolution Compact. In my point of view, it is justified. What do you say?
Final Verdict
Do not be confused for it is decided that Select Plus is the winner. It is due to its smooth functioning during food grinding, longer warranty, and masking of considerably more noise than Evolution Compact.
What is the Difference Between Evolution Spacesaver and Compact?
In spite of having the same technical specifications such as 3/4 horsepower, 2-stage grinding mechanism, professional design, and continuous feed type, there are things between Evolution Spacesaver and Compact that make them apart. The differences are limited but noticeable in the market of Compact's 8 years longer warranty, wide availability with a higher price, and its grey color presentation.
What is the Difference Between Insinkerator Evolution Excel vs Prestige?
Insinkerator Evolution Excel vs Prestige – these top-tier garbage disposals offer exceptional performance for your kitchen. The Evolution Excel impresses with its powerful 1 HP motor, while the Prestige takes it a step further with a 1.25 HP motor, ideal for tackling tougher food scraps. Both models stand out in noise reduction, but the Prestige truly shines with its Sound Seal Plus technology.
Additionally, the Evolution Excel features Multigrid for efficient grinding, while the Prestige offers the longevity of Dura-Drive induction motors. While the Prestige offers more power and state-of-the-art noise reduction, both units deliver stellar options for efficient and quiet waste disposal in your kitchen.
Why is My InSinkErator so Noisy?
If you complain about the InSinkErator garbage disposal being louder and noisier, it must be due to three causes, stuck particles in a shredder, a worn-out motor, or loose blades.
Summing Up
You better know how the Evolution series is superior to InSinkErator's other models. But the table turns when you asked to prioritize one from the two, belonging to the same series. In this regard, this article is the guiding light for those who are on a mission to get an industrial design garbage disposal from the options between Evolution Compact and Select Plus.
Asad is a garbage disposal enthusiast, mechanical engineer by education, and the visionary founder of Best Pro Product. Asad's journey has seamlessly blended his engineering acumen with his passion for kitchen gadgets, leading to the creation of a go-to online platform for homeowners and DIY enthusiasts seeking expert guidance on garbage disposals. His meticulous research, hands-on testing, and insightful reviews have established him as a trusted authority, while his commitment to sustainability resonates through his advocacy for proper waste disposal and reduced food waste. Asad's interactive engagement with his community and his penchant for experimenting with new recipes make him not just an online resource but a friendly companion for those navigating the world of kitchen appliances and eco-friendly living.