I have used the Badger 1 garbage disposal for quite a long time and went one step ahead by bringing home Badger 5. You must want to know what made me decide on the replacement. Does one serve better than the other? Hook on the differences I discovered between Badger 1 vs Badger 5.
Both garbage disposals from InsinkErator feature identical specifications, such as appearance, construction material, feed type, and speed. The only difference you observe is the higher motor strength and better performance of the Badger 5.
In this article, I will reveal the minor yet unignorable differences between the two disposal units. At the same time, you will also get to know the identical features with frequently asked questions.
Badger 1 vs. Badger 5 Overview
Choosing a Best Insinkerator Garbage Disposals that matches your cooking routine must be tiring. And when the concern is about extracting the better features between two similar-looking appliances becomes a hard-core dare. To start the article on differences, it is essential to go through the similarities among the specifications of the garbage disposal of the same brand to better know their worth.
Specifications
Type: continuous feed
Speed: 1725 RPM
Grinding Chamber Material: galvanized steel
Grinding Chamber Size: 26 ounces
Grinding Technology: single stage
Motor: Dura-drive induction motor
Difference Between Badger 1 and Badger 5 Garbage Disposal
If you give an in-depth analysis, you will notice that there exist differences in the domain of motor power, warranty, food waste selection, and much more. This section is about hunting the pinpoint primary factors that make them parallel.
Design/Appearance
The InsinkErator Badger series lacks a premium feel and gives you only what is required in an affordable range. Both Badger 1 and Badger 5 give the feel of fulfilling the primary purpose with their industrial build design, galvanized steel grinding components, and continuous feed type along with no additional facilities. 
However, you must know that the weight of the two bodies is different to help you in deciding the better per preferences. The former weighs 12.7 while the latter exceeds one digit only with 13.6 pounds due to the high-powered motor and is slightly larger.
Final Verdict: both appliances are on equal marking regarding the build quality. However, if you have a space in your cabinet, a disposal with a big motor must be your choice.
Performance
You may not point out the difference between the two garbage disposals' appearance, but there is another aspect that makes them separable: performance. How far garbage disposal performed well in grinding food chunks highlights the idea of configuring the horsepower, grinding chamber capacity, and grinding stage.
Looking into one of the three essentials of the Badger 1, the 1/3 horsepower Dura-drive induction motor rotates routinely and is efficient for two persons on occasional use. However, continuous use will cause the machine to break down with severe clogs. 
On the other hand, Badger 5 is more powerful than its competitors with a 1/2 HP powerful motor running at the same speed as Badger 1, such as 1725 RPM. Overall, it lets the blade and impellers run at a fast pace and convert the food waste into liquid form for more than three people. 
Final Verdict: Badger 5 successfully whitewashes the competitor and offers high 50% more powerful motor for food handling.
Grinding Chamber Size/Capacity
Both kitchen appliances consist of one-stage grinding technology with the same grinding chamber size. Badger 1 and Badger 5 hold 26 ounces of junk, but the latter is undoubtedly larger, heavier, and has high strength.
Final Verdict: no matter whether the grinding chamber facilitates the same amount of food waste. Badger 5 with a big engine makes food churning a fast process.
Functionality
The other way you can clear the confusion regarding what to choose and whatnot are by considering the category of food waste both disposals can handle. Plus, calculate the number of persons they aim to serve.
Badger 1 is a simple food disposer offering services to only two persons with the limitation of using it occasionally. Moreover, no specific food except soft meals or liquids can go inside the disposal because of the 1/3 hp motor.
On the other hand, Badger 5 handles more than you think. The 1/2 hp motor serves more than three persons and makes no difference if you use the unit once a day. Moreover, it accepts fruit peels and raw food in fewer amounts pretty well.
Final Verdict: you better know the winner; Badger 5
Noise Level
There are many reasons that you get a mediocre sound reduction in the InSinkErator Badger series. Assuming the price range they come with, less powered motors compared to those with 1hp or 5hp, and the absence of noise-insulating materials make them loud enough to hear even if you are distanced from it.
Final Verdict: both appear the same in reducing the noise levels to some extent
In-Home Warranty
Another crucial factor that helps you decide which one suits you best according to kitchen requirements is the warranty. The longer the warranty period, the more chances of experimenting with the device while remaining in the zone of replacing it.
InSinkErator Badger 1 does not let you enjoy the facility in the long run and comes with only 2 years of guarantee. On the other hand, Badger 5 keeps your mind relaxed and exceeds the time to one more year. So, you can easily make claims in emergencies.
Final Verdict: Badger 5 wins the argument by providing accessibility for the unit/parts replacement.
Price Difference
As you evaluate the Badger 1 and Badger 5 do not make the budget to reach the sky and offer the friendly price range to get your hands on these appliances for their features. Badger 1 is available at the price of around $100 while Badger 5 costs you a few bucks more than the competitors.
Final Verdict: the pricey Badger 5 is worth your investment for cooking in a home setup.
What is the Difference Between Badger 1 and Badger 100?
Badger 1 and 100 comprise the same faces under the InSinkErator roof. From identical design, and grinding elements to sharing continuous feed type, finding prominent differences is difficult. Even then, two primary differences go unnoticeable often.
One is the power supply of 5.6 amps of Badger 1 which is different from the Badger 100 having 6.7 amps. The other is the warranty period that aims to separate the two units. You can assume that the former offers 1 yrs. warranty while the latter has one extra year added to the warranty card.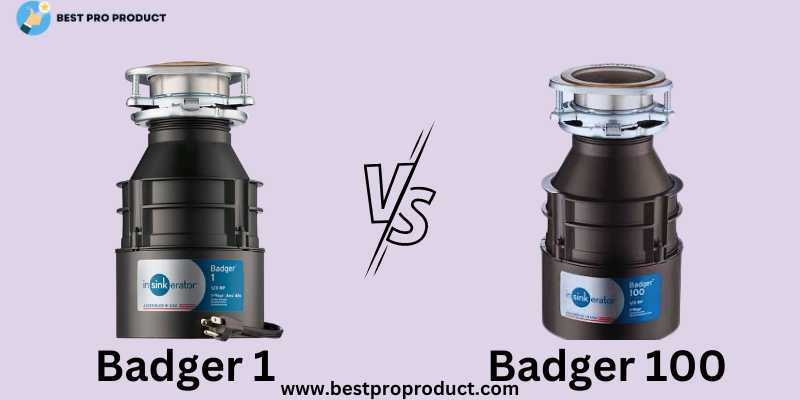 What is Difference between Badger 5 and Badger 500?
If all the features are identical then where lies the difference? For example, For example, 1/2 hp horsepower, Quick Lock Mounts, and a three-year warranty. The only difference I researched is the price range. Badger 5 costs lower than the Badger 500 with a difference of a few bucks. 
No matter what you select, you must buy the InSinkErator power kit separately with both disposals for easy wall switch installation.
How many Amps is a Badger 5?
Badger 5 presents higher output by rotating 1/2 hp motor, it requires more power supply. So, ensure that you charge the disposal unit with a 120-voltage outlet to confirm the 6.3 amps for efficient working.
Does Badger 5 come with Power Cord?
The InSinkErator manufacturers prepare the Badger 5 with a pre-installed power cord. So, you do not have trouble installing it. Moreover, it is compact and adjusts nicely under the kitchen cabinet.
Note: For information about corded vs non-corded Garbage Disposal "Garbage Disposal Corded vs Non-Corded" | Which one is Better?
Over To You
Do you want to know who is the winner of the discussion between Badger 1 vs. Badger 5? The features that Badger 1 and 5 provide at an affordable budget range are commendable. These appliances are well investing and offer a long run with maintenance. But the Badger 5 is superior offering better performance and food handling. What do you choose?
Asad is a garbage disposal enthusiast, mechanical engineer by education, and the visionary founder of Best Pro Product. Asad's journey has seamlessly blended his engineering acumen with his passion for kitchen gadgets, leading to the creation of a go-to online platform for homeowners and DIY enthusiasts seeking expert guidance on garbage disposals. His meticulous research, hands-on testing, and insightful reviews have established him as a trusted authority, while his commitment to sustainability resonates through his advocacy for proper waste disposal and reduced food waste. Asad's interactive engagement with his community and his penchant for experimenting with new recipes make him not just an online resource but a friendly companion for those navigating the world of kitchen appliances and eco-friendly living.