Are you the one who avoids garbage disposal only because of its inability to reduce noise? If yes, the situation gets reversed as garbage disposal manufacturers find a convenient solution in the form of noise insulation technologies that let you hear minimum-to-no disposal-generated noises. Do you want to know: What Noise Insulation Technologies are Used on Garbage Disposals?
The article explains the two primary noise insulation technologies that garbage disposal brands use on their models. In addition, there is a list of several installation parts that materialize these technologies.
Noise Insulation Technologies Used on Garbage Disposals
There are two noise insulation technologies that many garbage disposal brands incorporate. Here is the description below to get related information.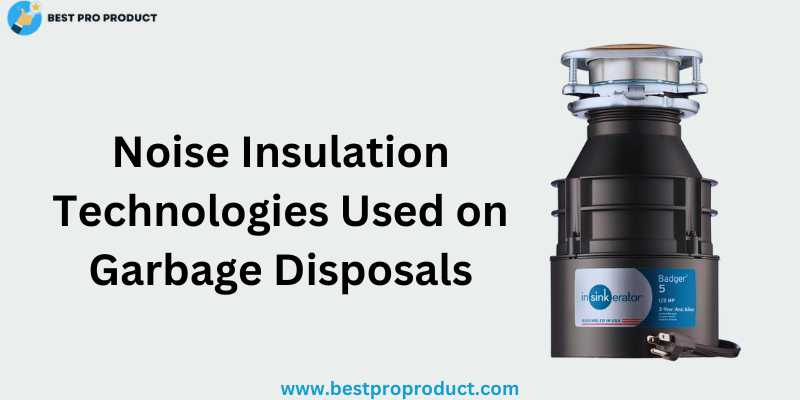 1. SoundSeal Technology
SoundSeal is a noise insulation technology specific to InSinkErator. But all its garbage disposals are not equipped with it. Instead, the technology is divided into three variations according to the models ranging from premium to economy class.
Sound Seal/Sound Limiter Insulation
A sound seal is referred to as a single layer of noise insulation wraps around the garbage disposal body. It primarily uses anti-vibration mounts that provide cushioning between the sink and the disposal unit to reduce vibrations.
Advanced Sound Seal
Advanced SoundSeal technology uses SoundSeal and QuietCollar sink baffles, so that the noise coming from the sinkhole is reduced. The technology serves as a barricade between the drain hole and the sink allowing the water to flow into the disposal unit without making noise.
Sound Seal Plus
As the name indicates, the improved technology incorporates multi-layers of noise insulation and ensures muffled noise than SoundSeal and AdvancedSeal. The primary material is a foam that covers the garbage disposal to do the job.
2. SoundShield Technology
Apart from the InSinkErator, there are other garbage disposal brands following the same footprints and use noise insulation technology. However, the incorporation of materials is different, but the primary aim is to let you hear as minimum noise as possible.
Waste King and Moen are the two popular brands that use SoundShield technology in their garbage disposals. Here the noise is reduced by wrapping the foam around the garbage disposal body to isolate noise/sound from the motor.
Disposals Parts That Incorporate the Noise Insulation Technologies
Garbage disposals use various materials to mitigate the noise. The names of which you are mostly familiar, but looking from the perspective of how these components contribute to reducing noise is surprising.
Sound Baffles
Sound baffles are tools constructed primarily from rubber to absorb garbage disposal vibrations. However, the location they are placed is important to increase the sound-reducing effect. Typically, sound baffles are placed in the grinding chamber, reducing noise during food grinding.
Sound Absorbing Materials
Garbage disposal manufacturers also utilize sound-absorbing materials, specifically fiber insulation and foam within the disposal casing to absorb vibrations. In this regard, sound emitting outside is deliberately reduced during appliance operation.
Anti-vibration Mounts/Sink Mounts
It is not that you successfully reduce the grinding chamber noise and are good to go. Garbage disposal is an appliance that lets you hear vibrations from every angle. In this regard, anti-vibration mounts or sink mounts are used as a barrier separating the disposal motor and grinding components from the sink and mounting assembly. The result is no transmission of noise to the sink and countertop.
Damped Motor Casing
If you notice no sound during the garbage disposal running, it is the motor that is equipped with some casing, which constitutes vibration-damping properties. It reduces the motor noise reaching your ears.
Anti-vibration Splash Guard
You all know how important a splash guard is. What if it is combined with anti-vibration features? The benefit is that you no longer listen to the sound of food hitting grinding chamber walls during processing. Replace garbage disposal splash guard with anti-vibration splash guard for Noise Insulation.
Sound Optimized Blades
What's better than using the garbage disposal with blades that no longer grind food like two swords fighting face to face? Manufacturers have introduced sound-optimized blades to minimize overall sound spreading in the surrounding area.
How do I quiet a noisy garbage disposal?
Garbage disposal often becomes noisy due to unknown reasons. However, if you notice the motor creates noise, simply unplug the disposal unit and plug it in after pressing the Garbage Disposal Reset Button. Also, if the noise is created due to blade rotation, use a wooden spoon to remove the food stuck in it.
What is the noise level of a garbage disposal?
Garbage disposal involves several grinding components of stainless or galvanized steel that make noise during grinding. The standard noise level of the garbage disposal is 80 decibels. Whereas the noise level is reduced to only 45 decibels if it has noise insulation.
Summing Up
Modern garbage disposal is not without noise insulation technologies. The article demonstrates the two primary technologies of the Waste King and InSinkErator garbage disposal to let the user enjoy a noiseless food grinding experience.
Asad is a garbage disposal enthusiast, mechanical engineer by education, and the visionary founder of Best Pro Product. Asad's journey has seamlessly blended his engineering acumen with his passion for kitchen gadgets, leading to the creation of a go-to online platform for homeowners and DIY enthusiasts seeking expert guidance on garbage disposals. His meticulous research, hands-on testing, and insightful reviews have established him as a trusted authority, while his commitment to sustainability resonates through his advocacy for proper waste disposal and reduced food waste. Asad's interactive engagement with his community and his penchant for experimenting with new recipes make him not just an online resource but a friendly companion for those navigating the world of kitchen appliances and eco-friendly living.