Do you expect the higher horsepower residential garbage disposal to dispose of larger quantities of food? It might seem impossible. Right? Why not throw the challenge on the commercial disposers to save your day from the entire mess? Well, the reason for my favor is due to being the owner of the one and the likeness toward the performance. If you are looking for a garbage disposal explicitly designed for the purpose, here is my honest review of the Waste King Commercial Garbage Disposal.
Waste King 2 HP Commercial Garbage Disposal – Complete Review
Are you ready to ride on the journey of investigating what Waste King commercial disposal has in store for you to meet your expectations? If yes, look no further and start reviewing the specifications followed by a brief explanation of the features, such as build quality, grinding power, design, and warranty. 
For your information, the model I have utilized and reviewed is the Waste King Commercial Disposal 2000-1. Furthermore, there are my viewpoints on what makes the disposal unit special and what breaks the deal to install it in the restaurants. It is a must to know information for you for an informed decision. 
Specifications
Feed Type: Continuous
Motor: fan-cooled permanent magnet motor
Horsepower: 2 HP, dual voltage
Speed: 1725 RPM
Weight: 113.9 pounds
Construction Material: Cast Iron and Stainless Steel
Reduced Noise Level: Rubber Hush Cushioning to eliminate metal-to-metal contact
Mounting Assembly: sink, trough, cone, and all-purpose mount assembly
Warranty: 17 months
Design
No matter whether you utilize residential or commercial garbage disposal, design is the last thing that matters, for it goes underneath the sink. Even then, many disposers come with some uniqueness to get recognized. Likewise, Waste King follows the trademark tradition and makes the disposal unit presentable by providing metallic hues for the lookbook.
Plus, revising the dimensions highlights that the under-observation disposal unit is 22 inches in height and 12.3 in width. The weight of 113 pounds confirms that the machine is designed to fit nicely under the big-sized kitchen sink with great functionality. Remember, you must ask for the expert field to install the disposal unit appropriately with no errors.
Build Quality
The thought of utilizing a big-sized garbage disposal with higher horsepower focuses the attention on reliability, long run, and durability. You must know that Waste King garbage disposals do not compromise on their build quality and provide the best construction material, that is stainless steel. In the case of commercial disposal, it also has cast iron alloy material to beat the usual wear and tear.
Also, almost all the grinding components are crafted out of stainless steel. From swivel impellers, and turntables, to undercutter blades, the sharpness does not leave a bit of food waste unattended from being churned. Plus, the grinding chamber is made of cast iron, even better than stainless steel. It means you get a life-long garbage disposal that provides full-fledged protection against corrosion and moisture damage.
Also, the garbage disposal comes equipped with threaded adjustable stainless steel legs to provide enough support and durability for smooth and error-free operation. The story is all about how you install the unit with the assistance of a professional.
Grinding Power
Another impressive characteristic of the Waste King garbage disposal that makes me go on the route of finding it is none other than exceptional grinding power. Many garbage disposals with 2 HP horsepower come and go but Waste King 2000-1 is different. How? It has a dual-stage grinding action that grinds the food converting it into atom-sized particles.
You may have knowledge that no garbage disposal is designed for handling sticky fibrous food waste, but the Waste King under-study model excels in the field and comes up with the undercutter stainless steel blade to do the job. Additionally, the 2 HP garbage disposal with the combination of the permanent magnet motor with a rotation speed of 1725 RPM
pulverizes everything that comes its way.
Point to be noted: you must not worry on the situation of the motor getting overheated due to food load. Instead, it is a permanently lubricated fan-cooled motor to ensure the operation to the last breath without any side effects of overheating.
What Can You Put in a Waste King Commercial Garbage Disposal?
Since I use Waste King 2000-1 garbage disposal in an all-day busy restaurant, remaining conscious of what it can handle or whatnot is essential for the betterment of the appliance. You must want to know what I stuff inside for a quick or time-saving disposal, here is your answer.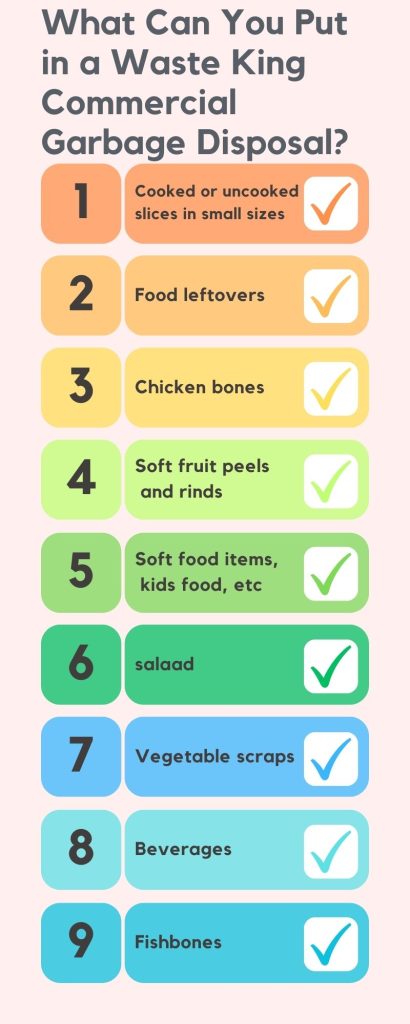 As you know, household disposal units restrict the entry of water-absorbant items, hard nuts or seeds, and the like. Waste King lets you stuff fibrous foods as a whole while other above-mentioned things only in small amounts.
What Can You Not Put in a Waste King Commercial Garbage Disposal?
No matter how much grinding power Waste King disposer possesses to grind food, there are certain things that you cannot dump inside the grinding chamber. Doing so will not only cause damage to the garbage disposal but also make you replace several parts from time to time. The below list is what highlights the things that remain to be distanced for the appliance's longevity.
Oyster shells
Corrosive detergents
Drain cleaner
Glass, china, or plastic
Clam
Non-food items, kitchen cutlery, kids' toys, etc
Metal such as bottle caps, tin or aluminum cans, etc.
Power Requirements
Waste King 2 HP disposer is available in two variants; single phase and three phase. However, the aim of both machines is to dispose of food waste on a larger scale. The one in my use is a single phase that requires 115 volts and 6 amps. The food waste requirement meets your expectations as it uses a frequency of 60 Hz and a plug-type connection for the operation.
Waste King Commercial Garbage Disposal – Extra Features
If you can't resist getting yourself a Waste King 2000-1 disposal unit, glance at the extra features mentioned below that make the worth of the product reach the height from every aspect.
Sound Insulation
Being near to the heavy-duty appliance becomes a long day task when it frustrates you with the loud noise. In this regard, your main concern about how much noise or vibration the commercial garbage disposal generates goes parallel with the level of decibels you hear. Isn't it? Waste King turns your thoughts in a new direction as it comes up with the rubber hush cushion.
The advantage of the feature is to avoid metal-to-metal contact and you listen to comparatively less noise. However, the SoundShield technology that the brand used to incorporate in the domestic disposers is nowhere to be seen in commercial ones.
Mounting Assembly
Waste King 2000-1 provides a variety of installation options compared to traditional Quick Lock or 3-bolt mounting assemblies. The mounting assemblies are specifically named so that you can position the disposal unit in the way you desire.
The common ones are sink, trough, basic cone, all-purpose cone, and dish table cone mounting assembly. What matters is the proper guidance and steps follow-up to install the machine in the place that comes in handy when dumping waste/leftovers
Overload Protection
The Waste King garbage disposal motor which is considered a primary support system for correct functioning is not an ordinary one. You may see a motor with bearings in the domestic disposers but for industrial purposes, it includes manual reset overload protection and is fan-cooled.
The privilege is to run extra cycles without worrying about overheating. Also, the permanently lubricated ball-bearing construction is incorporated to absorb shocks produced as a result of the machine's movement during the food grinding/processing process.
Septic Safety
The debate of combining septic systems and garbage disposals often becomes controversial. Why not, because the mind clad with old myths related to both systems pops many questions including the guarantee of how both carry their work.
The thing is that Waste King's under-study garbage disposal is Best Garbage Disposals for Septic Systems. Not only does it let the bacteria do the decomposition of the solid waste but also reduces the chances of any leftovers creating clogs in the pipelines.
Warranty
Many times, commercial garbage disposal follows the reverse, which is high priced and has fewer facilities. In the case of the Waste King commercial model, it has a shorter warranty period but manages to provide an extra few months. The warranty card explains 17 months to enjoy the free-of-cost services including parts and labor replacement.
Price
Waste King's specific model falls in the category of price range going from medium to high. At times, it may seem costly, but the increased money is worth the specifications that you will utilize for disposing of food in the restaurant. When guessing the round figure of the price, the disposal unit costs around $3000.
What I Like About the Waste King Commercial Disposer?
The corrosion-free cast iron makes the disposal unit reliable for years to come.
The dual-stage grinding action can take up to uncountable meals at once.
I can even combine Waste King 2000-1 with the nearest septic system, for it promises to work safely in coordination.
The fan-cooled motor is another plus point for ensuring smooth food grinding without overheating.
The overload manual reset protection helps keep the machine in a working condition with no pauses for repair.
What I Don't Like About the Waste King Commercial Disposer?
The mechanism for sound insulation needs upgrading from a hush cushion to proper sound-deadening materials or technology.
Wrapping Up
In earlier times, managing larger quantities of food waste was nothing but a nightmare, the impossible task needed hours to get the clean kitchen area for the next use. But in modern times, higher horsepower garbage disposal replaces manual working. One such is the Waste King 2000-1. The 2 HP garbage disposal proves more than enough for daily food grinding and comes with stainless steel jam-resistant impellers and a warranty for more than a year. Also, read the review to extract the points of preferences and bring an efficient machine.
Asad is a garbage disposal enthusiast, mechanical engineer by education, and the visionary founder of Best Pro Product. Asad's journey has seamlessly blended his engineering acumen with his passion for kitchen gadgets, leading to the creation of a go-to online platform for homeowners and DIY enthusiasts seeking expert guidance on garbage disposals. His meticulous research, hands-on testing, and insightful reviews have established him as a trusted authority, while his commitment to sustainability resonates through his advocacy for proper waste disposal and reduced food waste. Asad's interactive engagement with his community and his penchant for experimenting with new recipes make him not just an online resource but a friendly companion for those navigating the world of kitchen appliances and eco-friendly living.