What do you think about installing a garbage disposal for dealing with food disposal at the commercial level? This must be a difficult task with conventional or residential disposal units, but the Salvajor 200 makes it possible as it is explicitly designed for the purpose. If you are looking for one for your setup where food waste is generated in larger amounts, take a glance at Salvajor 200 Garbage Disposal Review and decide for yourself.
Salvajor garbage disposal disposes of food waste with 2 hp horsepower that works only for industrial use. Moreover, the disposal unit offers aluminum housing and an enclosed water-cooled motor that increases the efficiency of food processing without causing the problems of frequent overheating.
Salvajor Garbage Disposal 200 – Complete Review
Being a restaurant owner, tackling food waste to be dumped in the trash bags have never been my thing. As soon as I found the alternative in the form of Salvajor, there was no going back.
It's been two years with the garbage disposal and the experience is great. From increased horsepower to efficient grinding teeth, leftovers find no way other than pass down to the sewers pulverized.
Suppose you are looking for a moderately priced commercial garbage disposal with remarkable performance without reaching disaster. Know what I want to convey in my review of the Salvajor 200 Garbage Disposal, including specifications, features, and pros and cons.
What's in the Box?
Unboxing the Salvajor 200 parcel, it includes a heavy-duty disposer, 1/2-inch fixed nozzle, a valve for flow control, 1/2 solenoid valve, a magnetic starter, 1/2 vacuum breaker, a sink stopper, and a sink mounting.
Specifications
Horsepower: 2 HP
Plug Type: Hardwire
Exterior Housing: Aluminum alloy
Mounting Assembly: Cone or Sink assembly.
Water Requirement: 5 gallons per minute of cold water
Warranty: 1-year parts and labor
Design
Traditionally, commercial garbage disposals are the most neglected ones in designing or infusing extraordinary features. Instead, the appliances are only manufactured to do their job of a continuous run for food disposal. But Salvajor 200 is one step ahead in making the disposal unit presentable by offering a chrome finish with reddish hues in the center highlighting the branding.
Also, turning to the dimensions explains that the garbage disposal is 16 inches in height with 80 lb weight. It undoubtedly makes the disposal unit compact to fit under the big-fat commercial sinks. However, you must require an expert to get the disposer fitted adequately and with no repeated errors.
Build Quality
The idea of using a higher horsepower garbage disposal is not without knowing the durability and reliability. Typically, the machine itself proves its long life by grinding loads of food waste. You must know that it has some other material that even beats the stainless-steel material of household disposers.
Salvajor 200 is crafted out of aluminum alloy housing. The molded body protects the disposal unit from corrosion accumulation and also keeps the unit cool, for the housing is heat treated to ensure everlasting durability.
You must know that the grinding components involved in grinding are durable and enhance the ratio of food performance fourfold. From the 8-inch carbide alloy shredder and the rotor, the grinding chamber is filled with such components to remove the negligence of clog formation and serve best for industrial purposes.
Grinding Power
Another attractive feature of the Salvajor garbage disposal that makes me run behind the appliance is its extraordinary grinding power. The specialty is the use of 2 hp horsepower which is unbeatable when compared to residential disposal units of 3/4 hp or 1 hp.
Also, there is an improvement in how the appliance's motor runs and lets the other components grind food leftovers. The garbage disposal includes a motor that is enclosed and water-cooled so that there is no interruption in the form of overheating during the operation. In addition, the powerful dual direction grinding lets you add food [articles fourfold with the guarantee of obtaining hundred percent results with no traces of any waste stuck inside.
What Can You Put in a Salvajor 200?
No matter for what purpose you want Salvajor, be it for serving in restaurants, offices, or commercial savory shops, you must not forget the primary purpose for which it is designed. That is, putting what it can handle or avoiding what it cannot handle.
While household garbage disposals include a short list of what things go in the garbage disposal. You have the privilege to add more than your imagination. Apart from fulfilling the requirements of disposing of 300-500 meals per day, know the list of items you can add to the Salvajor 200 grinding chamber.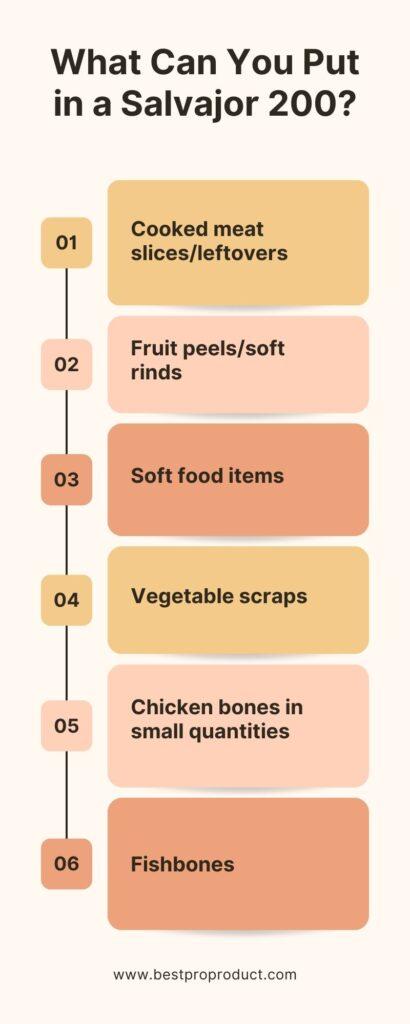 Domestic garbage disposals do not allow putting fibrous foods, water-absorbing edibles, nuts or seeds, and stringy foods. Salvajor garbage disposal lets you put them in smaller quantities.
What Can You Not Put in a Salvajor 200?
No matter how powerful Salvajor 200 is for food items, certain things invite injury to the disposal unit. The below list is a reminder to keep the things or materials at a distance to ensure the appliance's longevity.
Salvajor 200 Controls
The sturdy garbage disposal proves to be highly professional and dedicated toward its work. It comes with a control box that incorporates four different types of control. Here is the description,
MSS (Non-Reversing)
MRSS (Manual Reversing)
ARSS (Automatic Reversing with Water Saver)
ARSS-2 (Automatic Reversing)
You can control the rotation direction by installing the garbage disposal with automatic reversing controls. I found the working mechanism needs a habitual routine to get used to the controls to run the machine adequately.
Power Requirements
Salvajor aims to serve food disposal at a much larger scale. That is why confirming how much amps or volts it consumes is more than obligatory. The fact is that you want efficient machinery to not let down the food waste requirements.
In this regard, Salvajor 200 Garbage Disposal Use Amps 6.6 at 208 volts. What I like about the machine is that it uses 5 gallons of cold water per minute to serve as a sliding agent for churned food items to send them to the sewerage systems.
The total wattage value goes up to 1373 watts and the easy method you achieve the best performance is by hardwiring it instead of looking for a convenient switch to operate it, such as air switches or toe kick ones.
Salvajor Model 200 – Extra Features
If looking forward to getting yourself a Salvajor 200 garbage disposal, read the extra features mentioned below that increase the worth of the product to every inch.
Sound Insulation
The concern about how much garbage disposal reduces self-generated vibrations or noise is justified. Because being near the appliance is not an easy task if it continuously makes noises.
No matter for what location you want a sound-insulated garbage disposal, your primary motto is to listen to as low decibels as possible. Isn't it? Salvajor manifests your command but only to some extent.
It has an adapter above the grinding chamber and a drain outlet made of rubber that isolates sound while eliminating the excess vibrations. However, the primary sound insulation technology is nowhere found in the description compared to the Sound Seal or SoundShield as in Waste King or InSinkErator garbage disposal models.
Mounting Assembly
Apart from the traditional Quick Lock and 3-bolt mounting assemblies, Salvajor 200 provides a sink or cone assembly. You must have someone as your helping hand to install it under the sink for better functionality.
Overload Protection
As you know, the installed motor in the Salvajor 200 garbage disposal is not an ordinary one, it also includes thermal overload protection that prevents the motor from reaching the verge of damage. In addition, there are tapered roll bearings to absorb shocks that are produced in response to the machine's movement while running.
Septic Safety
You must forget another concern related to garbage disposal, which is having it with septic systems. There are glad tidings that Salvajor is safe to combine with the nearest septic systems with no devastating outcomes.
The garbage disposal conveniently reduces the food items converting them into smaller particles whereas the bacteria inside the septic tanks let the further decomposition of the solid waste if any. In a nutshell, both appliances and the waste management system lessen the waste going to landfills.
Warranty
As mentioned earlier, commercial or higher horsepower garbage disposals do not come to make you happy and lack enough services. Similarly, one such is the short warranty period. Since the robust body is rugged enough to reach safely to the expiry date, the warranty period given is only one year.
Price
Garbage disposals including horsepower higher than 1 HP are often costly. The range starts from the point where you end the discussion for domestic households. Comparing Salvajor 200 to other garbage disposal commercial models, it is still cost-effective and available in the range of around $2,245.
What I Like About the Salvajor 200?
The corrosion-free aluminum housing makes the garbage disposal durable in the long run.
The dual-direction grinding can take up to 100 meals in one go.
I can even link Slavajor 200 with the septic system, for it is designed to work in coordination.
The water-cooled motor is another plus point for confirming smooth food grinding with no fear of overheating.
The thermal overload manual reset reset helps keep the appliance always running with no pauses.
What I Don't Like About the Salvajor 200?
I think the makers should install sound-insulating materials instead of rubber adapters or rubber drain outlets to minimize vibrations effortlessly.
Wrapping Up
Disposing of food waste in commercial localities seems impossible, But not now because of the innovative and extra-powered garbage disposals. If you also want one for you, Salvajor is available with great horsepower capacity, everlasting easiness, and less maintenance. I hope Salvajor 200 Garbage Disposal Review will help you in the best possible way to let you decide in no time.
Asad is a garbage disposal enthusiast, mechanical engineer by education, and the visionary founder of Best Pro Product. Asad's journey has seamlessly blended his engineering acumen with his passion for kitchen gadgets, leading to the creation of a go-to online platform for homeowners and DIY enthusiasts seeking expert guidance on garbage disposals. His meticulous research, hands-on testing, and insightful reviews have established him as a trusted authority, while his commitment to sustainability resonates through his advocacy for proper waste disposal and reduced food waste. Asad's interactive engagement with his community and his penchant for experimenting with new recipes make him not just an online resource but a friendly companion for those navigating the world of kitchen appliances and eco-friendly living.