Do you want a whole package of features at an affordable price? If yes, set aside the expensive garbage disposal models and grab the Badger 5. What makes it unique compared to other disposal units, or why is it in trend? Read my article on InSinkErator Badger 5 Review.
InSinkErator Badger 5 is there for you not to break the bank and make your food disposal sessions less tiring. All you get is the ½ horsepower, dura-drive motor, compact size, and 3 years in-home warranty, which is a big deal among its competitors.
The review article connects you deeper with the InSinkErator's Badger 5. From specifications, extra features, and accessories, the mentioned information is a combination of personal viewpoints and other users' feedback. So, hook to the guide and never miss any single detail.
Bringing home one of the InSinkErator models must come into your mind when you plan to buy a garbage disposal. Isn't it? So why not InSinkErator Badger 5? Because it is a well-known garbage disposal model that does not comprise your priorities and offers specifications at a budget-friendly price.
Interesting to know what Badger 5 packs inside; you must know the positives and negatives from my perspective.
Specifications
Feed Type: Continuous
Weight: 13.6 pounds
Horsepower: ½ hp
Motor: Dura-drive Induction Motor
Speed: 1725 RPM
Installation: Quick Lock Mounting
Grinding Chamber Capacity: 26 ounces
Construction Material: Galvanized Steel
Warranty: 3 years
Physical Appearance
You all know that the physical appearance of the disposal unit has nothing to do with the performance. But one thing which holds special concern in defining the degree of convenience it provides in installation is the dimensions of height and width.
The design of the Badger 5 is a regular one with a reset button below, standard label stickers on the exterior, and a slim body. The eye-catchy part is 11.5 inches in height which prove it is as compact as the kitchen-under-cabinet wants for a snug placement.
Also, the 13.6 pounds of weight holds special importance because it makes the overall process of lifting and holding the disposal unit convenient during installation. Otherwise, many garbage disposals with heavy weights needs assistance to get this done.
Feed Type
All garbage disposals are manufactured with two feed-type designs that play crucial in how they work: continuous feed and batch feed. In the case of Badger 5, it is a continuous feed type that provides convenience in food grinding.
The particular design lets you do nothing except flip off the switch, turn on the appliance, and dump kitchen refuse into the grinding chamber. You will see the rest it handles on its own that is, from grinding the food chunks to sliding them to the sewers, Badger 5 is responsible to do the task within the time you allowed it to consume energy from the outlet.
Performance
Another feature that brings you here is the performance of the Badger 5. As you know, the garbage disposal model is from InSinkErator's standard series, the performance level is also standard with ½ horsepower.
But the best thing is that the dura-drive induction motor compensates for somewhat low horsepower and turns the impellers at a moderate speed of 1725 RPM. As a result, you get the much-needed pulverized food without any multi-grinding stages.
Furthermore, the specification that I specifically like is the grinding chamber capacity of 26 ounces. It means you can run Badger 5 with almost all the leftovers you have without putting items on hold.
What You Can Put in Badger 5?
The Insinkerator Badger 5 1/2 hp comprises restricted horsepower compared to ¾ hp, but it does not mean you cannot add regular food scraps and peels. The only prevention is to convert them into small pieces and ensure adequate functioning.
Small meat pieces
Fruit peels
Soft food items
Fishbones
Vegetable scraps
What You Cannot Put in Badger 5?
Like other garbage disposal brands, InSinkErator also sticks to the rules of putting only those things which are recommended. There are food and non-food items that Badger 5 does not accept to avoid overloading and overheating.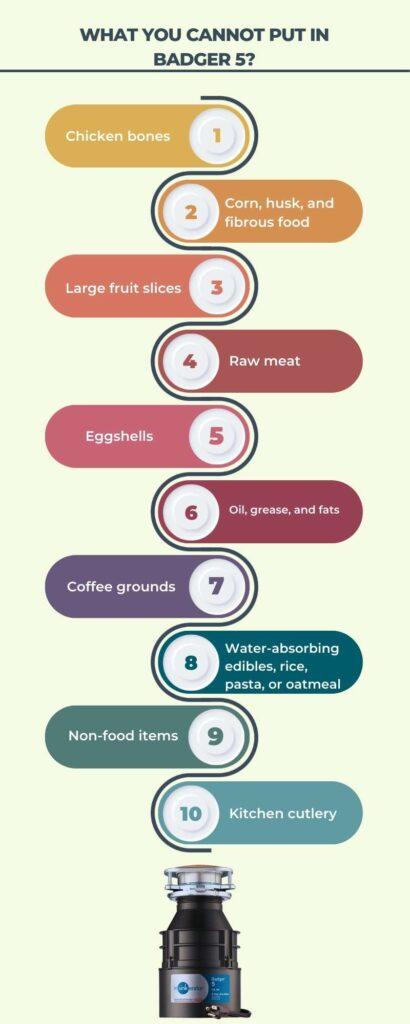 Build Quality
Choosing garbage disposal is not without dealing with the questions about its longevity, reliability, and durability. Similarly, how far the Badger 5 is quality conscious defines the construction material from which it is manufactured.
InSinkErator does not go over the board and introduce galvanized steel grinding chamber and grinding components in Badger 5. Although the material is skeptical to stainless steel which is exclusive to premium models, the entry-level model competes well with other models of the same category by having two stainless steel swivel lugs.
Overall, the build quality of the Badger 5 is commendable for the price it is available, but the tension of corrosion buildup is always there in the presence of excess water.
Warranty
Insinkerator Badger 5 warranty covers three years. The advantage of this tenure is that you get in-home services free of cost.
It means whether your disposal unit stops working or in need of any part replacement, you can check the warranty period and call the expert to do this for you without paying an extra amount. Also, if the entire disposal unit needs a replacement due to a breakdown or motor burning, still the in-home facility costs you nothing if your device lies in the warranty period.
Does Badger 5 Need Improvement?
Since Badger 5 is an economy-class disposal unit, it is devoid of many extra features that other premium models of InSinErator have. However, the idea of mentioning these features is to improve the concerned model to increase the purchase and functionality.
Sound Insulation
Many people go for high-end garbage disposal models because they are quiet. The presence of sound insulation materials makes them able to reduce strange noises and machine-generated vibrations. Unfortunately, Badger 5 does not have any to reduce the noise and has tireless food grinding with headaches.
Multi grinding Stages.
InSinkErator Badger 5 is low-powered and lacks multi-grinding stages for effective food processing. Moreover, you can only run it for two to three people once in a week. Therefore, I say that improvement is needed.
Badger 5 Accessories
Badger 5 offers some of the essential accessories without which you cannot operate it as advised. The list includes the following things that you must know about for easy installation and long-lasting working.
Power Cord
You must hear that InSinkErator garbage disposals do not have pre-installed power cords. But Badger 5 has variants that let you choose the option yourself of a power cord to ease the wiring process. However, you must get one separately from outside if you do not have one.
Splash Guard
Badger 5 offers a zinc drain stopper to keep water and food content inside the grinding chamber and prevent seeping out. Every brand has this thing, but InSinkErator does not have a removable one and you have to remove the entire unit for cleaning purposes.
Quick Lock Mounting Assembly
Insinkerator Badger 5 installation must not take a toll on you as it comes with a Quick-Lock mounting Assembly. What you have to do is to lift the disposal unit and lock it in the portion combined with the sink assembly. The process hardly takes you long hours providing a perfect fit.
What I Like About Badger 5 Garbage Disposal?
Badger 5 motor can easily convert food into small particles.
The 11 inches disposal height does not go wrong with the kitchen cabinet and provides easy placement.
The splash guard of zinc material is a plus point in keeping the content in the grinding chamber.
I find Badger 5 induction motors quieter than permanent magnetic ones.
A reset button provides quick troubleshooting in case of overheating, tripping, or overloading.
The garbage disposal functions effectively for small-sized families.
What I Don't Like Badger 5 Garbage Disposal?
Badger 5 is not quite enough and is bad at reducing generated noises.
The continuous feed design is not without injuries if misused.
Galvanized steel is not up to the mark in protecting the machine from corrosion buildup.
The splash guard is not removable, and you must dislodge the entire unit for deep cleaning.
Insinkerator Badger 5 vs 500
Badger 5 and 500 are lookalikes of each other and finding differences between them is practically impossible. Both have the same ½ horsepower, galvanized steel material, induction motor, and three years warranty period.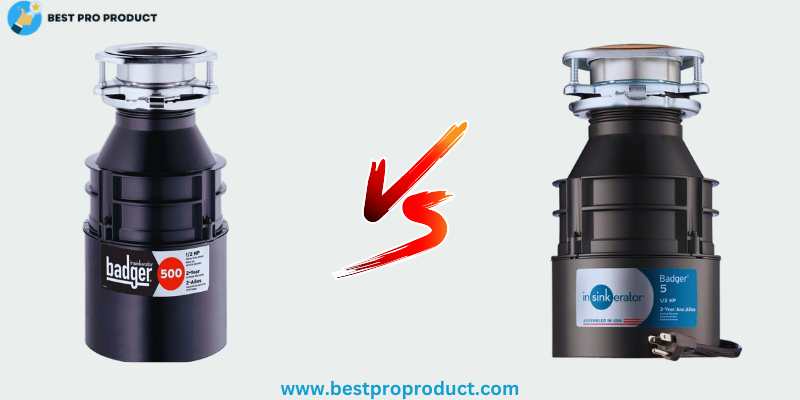 Even then, you can make them separate by highlighting the purchase point and price. The Badger 5 is available widely at low cost compared to the Badger 500 which is exclusive to HomeDepot and cost more than its competitor with a few bucks.
How Do You Clean an InSinkErator Badger 5?
Cleaning Badger 5 is an easy task. No matter whether you plan weekly or monthly cleaning, you must put one cup of vinegar and half a cup of baking soda into the chamber, wait for a few seconds and run the disposal unit with plenty of water. Also, you can put citrus peels for a fresh smell.
How Long Does a Badger 5 Garbage Disposal Last?
Badger 5 lasts 7-8 years after it shows several signs, such as leaking, clogging, and tripping for replacement. However, if you take care of it properly with advisable garbage disposal dos and don'ts, the capacity of working increases.
Summing Up
Utilizing InSinkErator Badger 5 is timesaving, convenient, and cost-effective. My point in giving a review of Badger 5 is to make the decision easier for those who are willing to get the product without burdening the budget. Although the grinding power is not appreciating to the point, it is still better compared to filling the trash bags to their last breath. So, grab your Badger 5, try its features, and recommend others.
Asad is a garbage disposal enthusiast, mechanical engineer by education, and the visionary founder of Best Pro Product. Asad's journey has seamlessly blended his engineering acumen with his passion for kitchen gadgets, leading to the creation of a go-to online platform for homeowners and DIY enthusiasts seeking expert guidance on garbage disposals. His meticulous research, hands-on testing, and insightful reviews have established him as a trusted authority, while his commitment to sustainability resonates through his advocacy for proper waste disposal and reduced food waste. Asad's interactive engagement with his community and his penchant for experimenting with new recipes make him not just an online resource but a friendly companion for those navigating the world of kitchen appliances and eco-friendly living.