Choosing a garbage disposal has never been an easier task. What would be your choice if you have the option to choose either Badger 500 or Badger 900? Do you not find difficulty in selecting one without knowing the specifications? If so, read this guide that explains InSinkErator Badger 500 vs. Badger 900.
InSinkErator 500 and 900 are from the Badger and Power series and aim to pulverize food waste conveniently. Since you are here to find what factors make them different from each other, note that the horsepower, grinding chamber material, and variable values of warranty make them apart.
The article sheds light on the primary differences between Badger 500 and 900. In addition, you will get to know who wins the argument regarding performance and functionality while disposing of eatables. But first, you need to know the similarities to understand the unignorable differences.
Similar Specifications
Feed Type: Continuous Feed
Speed: 1725 RPM
Grinding Chamber Capacity: 26 ounces
Motor: Dura-drive Induction
Mounting: 3-bolt
InSinkErator Badger 500 vs. Badger 900 – Differences
Don't be confused about what Insinkerator disposal to choose as my comparison analysis will clear your confusion, and you will get home your best appliance. The article describes the extracted differences between Badger 500 and Badger 900 regarding design, horsepower, construction material, and pricing.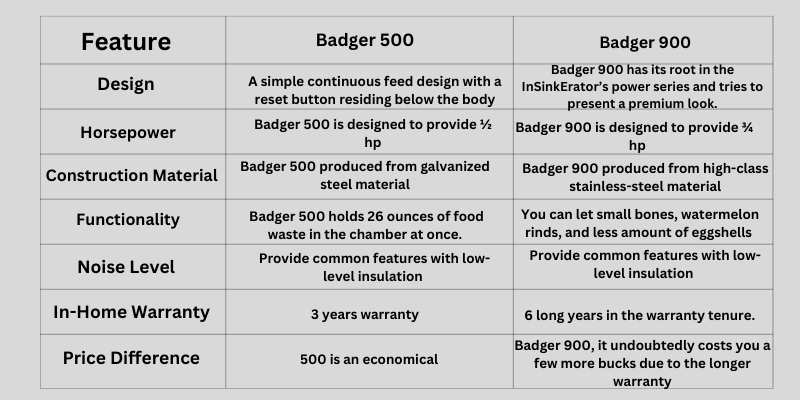 Design/Appearance
What's the hurry about finding the differences in the technical terms? The first difference you can find easily is by glancing at how both look. Both Badger 500 and 900 appear different in their designs. The former has a smart look while the latter has the charm to put a glance again. Also, both garbage disposals have slightly different weightage values.
Badger 500 is a competent garbage disposal belonging to the InSinkErator's Badger series. It comprises a simple continuous feed design with a reset button residing below the body and steel belts for mounting it under the sink.
On the other hand, Badger 900 has its root in the InSinkErator's power series and tries to present a premium look. The increased disposal size and smooth finish make it distinguishable from the product under consideration. The disposal unit is also continuous feed making it easy to let the kitchen refuse to vanish in one go.
Final Verdict: only the design cannot mark one's victory, as it is a lot more to discuss. However, the increased-size disposal unit must be reliable for regular use.
Horsepower
Horsepower is that weapon of the garbage disposal that decides the overall functionality of the appliance. In other words, it is this much important to let you know for how many persons a disposer is suitable, for what variety of food it accepts, and its size to hold garbage.
Badger 500 is designed to provide ½ hp which is enough to fulfill the requirements of more than three people. It means you get the ideal motor size that runs at 1725 RPM and commands various grinding components to deliver processed food to the main drains. Plus, the advantage of running it daily is a bonus.
In the case of Badger 900, the speed with which the motor rotates is the same as Badger 500, but the 3/4 hp high-powered motor compensates and makes no noticeable difference in converting the larger chunks into smaller ones and ultimately into liquid form.
Remember the Power series garbage disposal has no harm in running it multiple times in a day. It is better at accepting tough food waste, efficient for large families, but somewhat larger in dimensions.
Final Verdict: both garbage disposals include a Dura-drive induction motor running at an average speed of 1725 RPM, but the Badger 900 performs well.
Construction Material
The central difference that helps you decide better is the construction material, out of which both Badger garbage disposals are manufactured. Whether you understand it or not, the material has a great impact on garbage disposal's durability and longevity.
Here comes the Badger 500 produced from galvanized steel material. It works great in preventing frequent wear and tear and dents on the disposal body, but not durable compared to stainless steel. The grinding components and disposal itself are prone to corrosion at a faster pace.
On the contrary, Badger 900 fulfills the claim of providing power and high-class stainless-steel material simultaneously. No matter how much you flush your garbage disposal with water, the chances of accumulating rust are almost zero.
Final Verdict: Badger 900 is better than Badger 500, offers more durability, and keeps the disposal away from repairs.
Functionality
How far garbage disposal serves you at its best determines its functionality. It includes what can you put in the disposal unit and whatnot while keeping in mind the horsepower and grinding chamber capacity.
Clear your confusion and mark that Badger 500 holds 26 ounces of food waste in the chamber at once. Even then, you must be careful of the protocols of not putting anything that may entangle the impellers and cause the machine to restrict the usual job. For instance, it is only capable of holding soft meals, and small scraps with a variety of liquids, such as juices and soup.
On the other hand, Badger 900 comes in the category of the family-favorite disposal unit. It is because of this reason that you can let small bones, watermelon rinds, and a smaller number of eggshells down the chamber with no fear of heavy blockage. Badger 900 is one of the best Insinkeratore garbage disposal.
Final Verdict: despite having the same size grinding chamber, Badger 900 lets you deal with an unusual variety of food waste.
Noise Level
In any case, the InSinkErator Badger 500 vs Badger 900 do not make up to the expectations of the masking considerable noise. They provide common features with low-level insulation and do not exceed beyond this.
Final Verdict: The price range and absence of sound-deadening materials make them one step behind the premium models and you hear vibrations from a distance too.
In-Home Warranty
Another crucial factor that helps you calculate which garbage disposal series matches your taste is the in-home warranty. It means you have more opportunities to test and experiment with the device while remaining in the safe zone of claiming the replacement.
Badger 500 satisfied you while giving services for 3 years warranty, whereas Badger 900 does pretty well in mentioning the 6 long years in the warranty tenure.
Final Verdict: you can approach parts replacement for a longer period if select Badger 900.
Price Difference
As you evaluate the InSinkErator Badger 500 v Badger 900 do not step out of the budget range and let you bring home the best-matched appliance from your savings. 
While discussing the Badger 900, it undoubtedly costs you a few more bucks due to the longer warranty, better build quality, and slightly large motor. On the other hand, Badger 500 confirms that you get all the standard features in a wallet-friendly range.
Final Verdict: badger 500 is an economical chance to lighten the way you do dishes compared to Badger 900. But you have some limitations of small family and usage time.
Insinkerator Badger vs Evolution
Badger and Evolution are the two series of the InSinkErator garbage disposal brand that differentiate several models per priorities and pricing. The former is the budget line with standard features while the latter belongs to premium facilities and is jam-packed with trendy specifications. A few differences are keeping the two series on the opposite edge.
Evolutions series exhibit sound insulation materials and are quite
Badger uses one-stage grinding technology whereas Evolution has multiple stages
Insinkerator Evolution is best quiet garbage disposal, blending power with whisper-quiet performance for a peaceful kitchen.
The evolution series is larger compared to Badger.
Evolution garbage disposal is manufactured from better quality materials that prevent rust build-up.
Badger Disposals are cost-effective
InSinkErator Badger 5XP vs. Badger 900
InSinkErator introduce Badger 5XP and 900 with almost identical features. The technical terms are almost the same, such as ¾ hp motor, 3-bolt mounting locks, grinding capacity, and continuous feed type. Here the primary differences come from the warranty period and grinding chamber material.
The changed build quality of the Badger 5XP is due to galvanized steel material offering less warranty tenure of 4 years. It means less durability with less time for replacement. On the other hand, Badger 900 is equipped with stainless steel material and offers 6 years in-home warranty.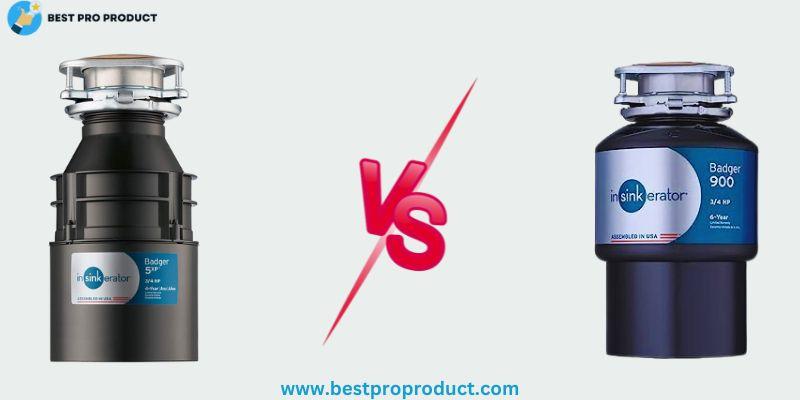 What is the difference between Badger 5 and Badger 500 disposal?
The only difference between Badger 5 and 500 is the price range. Badger 500 is costlier while providing the same features of a 1/2 hp single-phase motor, a three-year warranty, and the same speed.
Is a higher HP garbage disposal better?
Higher garbage disposal is always a better option. Not only it confirms less jamming but ensures efficient disposal running with a variety of food waste. However, the drawback of choosing a higher horsepower disposer is its large size which creates problems while installation in non-renovated kitchens.
Why do garbage disposals break so often?
Garbage disposals come with an expiry date of 10-12 years. If you say, your garbage disposal breaks often, it means it is under poor hygiene conditions with flop maintenance techniques.
Bottom Line
The result between Badger 500 vs. 900 is so evident from their features that you do not have to pick the manual instructions and give your final verdict. Badger 900 is a fighting device that outcasts its competitor Badger 500. All the specifications combine to give their best. Is there any delay in making your choice?
Asad is a garbage disposal enthusiast, mechanical engineer by education, and the visionary founder of Best Pro Product. Asad's journey has seamlessly blended his engineering acumen with his passion for kitchen gadgets, leading to the creation of a go-to online platform for homeowners and DIY enthusiasts seeking expert guidance on garbage disposals. His meticulous research, hands-on testing, and insightful reviews have established him as a trusted authority, while his commitment to sustainability resonates through his advocacy for proper waste disposal and reduced food waste. Asad's interactive engagement with his community and his penchant for experimenting with new recipes make him not just an online resource but a friendly companion for those navigating the world of kitchen appliances and eco-friendly living.