Garbage disposal combines plumbing and electricity and that's why it often creates a problem from whom to get assistance for its installation. A plumber or an electrician or probably both so that one adjusts the piping or the other one fixes the wiring. If you have confusion in mind and want a correct answer to carry on the convenient disposal placement. Read the article to investigate yourself: Who Installs a Garbage Disposal Plumber or Electrician?
Let us discuss the terms and conditions you are allowed to call a plumber or electrician. Also, get yourself acquainted with some frequently asked questions to know whether garbage disposal installation is a do-it-yourself project.
Does a Plumber or Electrician Install a Garbage Disposal?
Garbage disposals are an addition to the home plumbing system, it seems obvious and convenient to call a plumber for installation or troubleshooting. But garbage disposals require both plumbers and electricians to play their part in installation in different scenarios.
If the GFCI outlet is present near the location you install the garbage disposal, plumbers are qualified enough to install the garbage disposal independently into the drainage system. Because they do not have to deal with a long list of electrical work, plugging the power cord into the outlet will turn on the machine.
On the other hand, garbage disposal requires you to call an electrician if the GFCI outlet and the power cord are missing. So, you may conclude that electricians are the helping hands while the plumbers contribute most of the work.
Can Electrician Install a Garbage Disposal?
No, electricians do not install a garbage disposal, they are only hired to look for the electrical work needed to install a garbage disposal. Garbage disposal requires a 120-volt GFCI outlet that is usually present under the kitchen sink. The only condition you are allowed to call an electrician if you don't have an outlet which mostly happens in rare cases.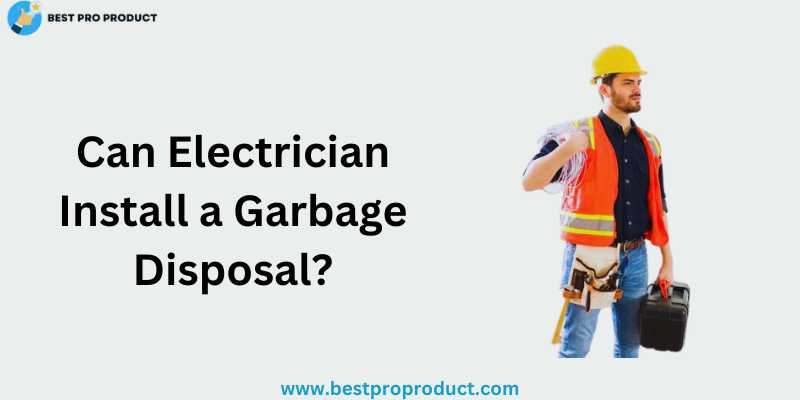 Why plumbers cannot do this because they have no detailed knowledge of electrical circuitry and doing so may be risky or unsafe. On the other hand, not only does a GFCI outlet let you call an electrician, but there is another problem you encounter when installing a garbage disposal, which is a power cord. Garbage disposals that have pre-installed cords already but most of them not equipped with. So, what the electrician do is find the compatible one and plug it into the GFCI outlet to supply electricity to the appliance.
Does a Plumber Install Garbage Disposal?
Yes, plumbers are most convenient when the installation of garbage disposal is concerned. The reason they handle most of the work, such as plumbing, disposal connecting to the sink, and the power outlet. Also, hiring a plumber before anyone else, specifically an electrician will benefit you in three ways.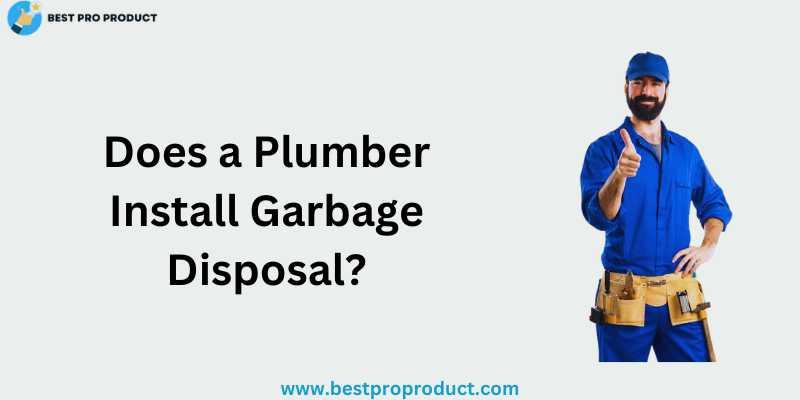 1. Plumbers Have More Expertise than Electricians.
The reason why you must call plumbers is because they have better knowledge and practice in the unit's installation. Moreover, plumbers better know the tricky plumbing techniques including how to connect drains or seals. Also, they ensure a leak-free connection between the garbage disposal and sink which electricians won't do it.
Still, if you have a point who will handle the electrical functions of the disposal unit, plumbers are your only solution. It is because they undergo practice in the installation of a variety of garbage disposal and have the basic know-how to plug the cord into the outlet only if GFCI is already there beneath the kitchen sink.
2. Plumbers Save Your Time and Money
Hiring a plumber for installing or addressing garbage disposal problems saves you time and money because you pay for only one service to handle plumbing and electrical work. On the other hand, if you contact an electrician, the electrical work sorted, but the need to connect the appliance to the drains still left for the plumber.
3. Plumbers Advise you About the Right Garbage Disposal
Garbage disposals have many models and are of different specifications. When you are in doubt about what to choose, there is none other than a plumber who assists you to pick the right one. Because they have better knowledge about areas' plumbing systems and let you know the compatible size and model for your kitchen. 
Can I Install a Garbage Disposal by Myself?
Yes, you can install garbage disposal under the kitchen cabinet yourself. All you have to do carefully read the instructions and follow the steps as given. Installing garbage disposal is so easy that it takes you about 60 minutes to do the job. However, if you do not have enough confidence, you can hire an expert.
Who Installs the Power Switch for a Garbage Disposal?
You may think that no one better than an electrician can install the power switch, but it is not the case. Plumbers can easily install a power switch because it is included in the garbage disposal installation part, and they are trained to carry on the job.
Over To You
Who else wants to malfunction the newly-bring garbage disposal at the initial stage of installation? Probably no one. Remember, you can install the garbage disposal yourself because it is a simple machine and comes with installation parts in the kit. Even then, the abovementioned statements undoubtedly clear your mind about Who Installs a Garbage Disposal Plumber or Electrician.
Asad is a garbage disposal enthusiast, mechanical engineer by education, and the visionary founder of Best Pro Product. Asad's journey has seamlessly blended his engineering acumen with his passion for kitchen gadgets, leading to the creation of a go-to online platform for homeowners and DIY enthusiasts seeking expert guidance on garbage disposals. His meticulous research, hands-on testing, and insightful reviews have established him as a trusted authority, while his commitment to sustainability resonates through his advocacy for proper waste disposal and reduced food waste. Asad's interactive engagement with his community and his penchant for experimenting with new recipes make him not just an online resource but a friendly companion for those navigating the world of kitchen appliances and eco-friendly living.