Installing garbage disposal means bringing home the InSinkErator model, but what about the competing models? Don't they find their position on the scale equal to the long-term running brand? I was confused about whether to exchange my InSinkErator garbage disposal with the same brand or try a new one. My research gave my arguments cemented support, and I prepared a comparison article between Moen vs Insinkerator Garbage Disposal
InSinkErator and Moen share the same base such as reducing food waste, ensuring kitchen cleaning techniques, and time-saving. However, InSinkErator surpasses Moen in the sense that they provide modern garbage disposals with high-quality materials. At the same time, Moen is unbeatable in high-speed motors, pre-installed power cords, and an excellent warranty tenure.
Do you feel naive about yourself in selecting the perfect garbage disposal? Get help with my article that aims to mention the common differences between InSinkErator and Moen garbage disposal without digging into the particular models. Additionally, you will also get acquainted with who is better and at what?
Which Garbage Disposal is Better Moen or Insinkerator?
Many manufacturers come with improved features and try to make their brands and appliances different from others. Let's see what distinguishes Moen vs Insinkerator Garbage Disposal.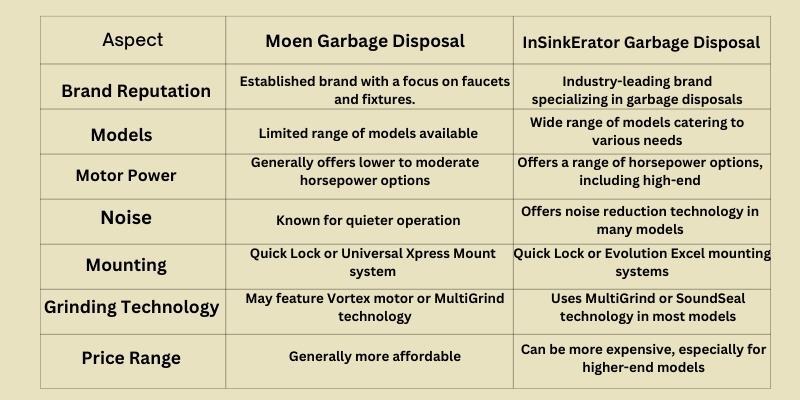 Build Quality
Both brands undoubtedly offer good looking garbage disposals, but it is the material with which it is made that matters in the end.
InSinkErator is proficient in providing garbage disposals crafted from high-quality stainless steel. You must know that the grinding chamber and other components, such as impellers, shredders, or shafts are of the same material.
On the other hand, Moen garbage disposal is a mix of plastic, corrosion-resistant polymer, and stainless-steel materials. From grinding components to grinding chambers, pricing decides the manufacturing. For instance, top models have top materials, like stainless steel and the cycle goes on.
Size
Another thing that comes to mind is the adequate size of the garbage disposal. No matter if you get it installed under the kitchen cabinet, it should look nice and be compatible with the space you designate for it.

However, size depends on other factors like horsepower and disposal usage, even then an ideal size is necessary to get fit in the standard-size cabinet. InSinkErator offers a variety of garbage disposals with an ideal size of 13 inches, whereas Moen has only a few models in this height range.
Performance
Insinkerator and Moen when alone on the stage are unbeatable due to their mastery of grinding food particles with high-speed motors, sharp grinding components, and various figures of horsepower. But when you compare these two, the differences are apparent.
InSinkErator holds the toughest food waste like celery, raw chicken chunks, and much more. However, the speed with which the motor rotates is somewhat slower than Moen units, but multiple grinding stages and a range of horsepower from 1/3hp to higher mask the reason.
On the other hand, Moen garbage disposal's performance is no different. as the single stage grinding, 1/3 hp to 1hp power, and high RPM manages the food waste nicely and quickly.
High-Speed Motor
The garbage disposal motor is of the highest importance, for it is the nucleus that supplies power to other components for food churning. Both InSinkErator and Moen are very particular in this regard and come up with different technologies.
InSinkErator features Dura-drive induction motors in the majority of its model. From low to high-priced garbage disposals, such as Badger 1 or Evolution Compact. You will find the incorporation of these powerful motors to reduce food waste at 1725 RPM.
On the contrary, the Moen garbage disposals have permanent magnetic motors and are faster. The speed range is from 2000 RPM to 2700 RPM, considering the model you want to select for saying kitchen waste a final goodbye.
Noise
How far the garbage disposal quite depends on the sound-deadening technologies included in the machine. It can be anything from nylon-coated grinding parts, and insulation around the appliance to the sink baffles for reduced vibration.
Coming back to InSinkErator garbage disposals, these are quieter than the competitor because of the Sound Seal technology and are greater in number.
Whereas Moen does have quite a series of models offering better Soun Shield technology but consists of a few in numbers.
Pro Tip: if you want ultra-quiet garbage disposal for your open kitchen, InSinkErator Evolution Excel is the best choice.
Multi Grinding Technology
Another difference between InSinkErator and Moen garbage disposals is grinding technology. It does not mean that InSinkErator has something new that Moen lacks, but it is the discussion of the number of components that grind the food.
InSinkErator names it multi-grind technology, but what I study is the increased components and not different chambers to convert the food's larger chunks to smaller ones. On the other hand, Moen garbage disposals are satisfied with the standard number of grinding components, or you can say single stage grinding for the purpose.
Warranty
In-home warranties are essential for both brands. Depending on what category you choose, the warranty period is adjusted. However, some models of the InSinkErator and Moen come with a lifetime warranty.
Moen GXS75C offers a 10-year warranty whereas Evolution Excel reduces it to 7 years.
Final Verdict
InSinkErator and Moen are better performers in their domains. It is your choice to decide what you want regarding your budget and kitchen requirements. Both brands are efficient in providing top-class material, powerful motors, and the best accessories, but InSinkErator has an upper hand with new features like auto-reverse to maintain the disposal's reliability.
Asad is a garbage disposal enthusiast, mechanical engineer by education, and the visionary founder of Best Pro Product. Asad's journey has seamlessly blended his engineering acumen with his passion for kitchen gadgets, leading to the creation of a go-to online platform for homeowners and DIY enthusiasts seeking expert guidance on garbage disposals. His meticulous research, hands-on testing, and insightful reviews have established him as a trusted authority, while his commitment to sustainability resonates through his advocacy for proper waste disposal and reduced food waste. Asad's interactive engagement with his community and his penchant for experimenting with new recipes make him not just an online resource but a friendly companion for those navigating the world of kitchen appliances and eco-friendly living.