The kitchen is the heart of your home, and it suffers the most, the uninviting splatters, leftover spills on the countertops, unmanageable cooking ware, and appliances anticipating to free them from unnecessary load. The place where you spent almost the entire day manifesting recipes into mouthwatering dishes deserves nothing but diligent care and attention. To stop your kitchen from going a lot, you should stick to a must-have Kitchen Cleaning Checklist to have a fine haven for your chores.
Let's make a checklist that segregates the cleaning schedule into daily, weekly, monthly, or yearly without burdening your lazy soul. Also, you may craft the kitchen cleansing checklist in one sitting, but it needs your constant determination to transform it from your mind to before your eyes, and you get an in-control kitchen in return. 
What Products to Use to Clean a Kitchen?
There are many products and tools you can use to clean the kitchen. The need for the hour is the dedication that you have in your heart and soul to eliminate the clogged drains, stinky sinks, and burnt stovetops. The primary kitchen cleaning supplies surely know how to uplift the first sight of the kitchen.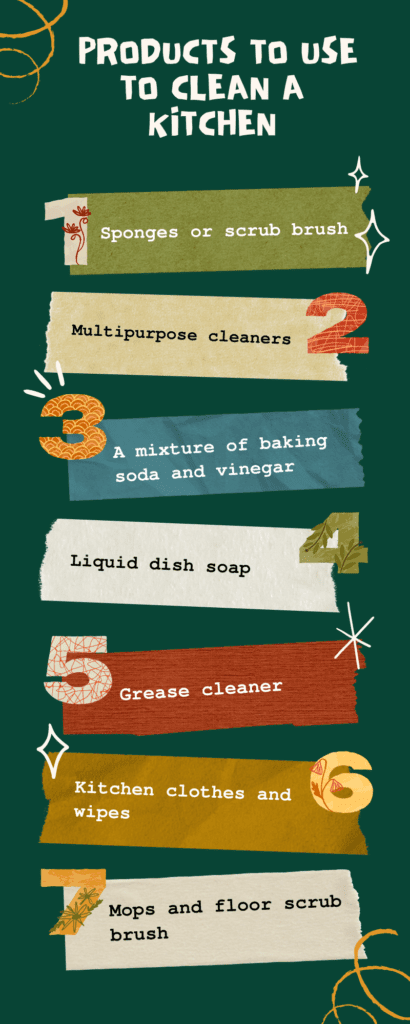 Daily Kitchen Cleaning Checklist
The daily kitchen chores hold almost close to a hundred percent importance in maintaining a tip-top cooking area. I mean you get a chance to say goodbye to the irregularities that happen as a result of various activities. The primary chores you must look forward to completing regularly are:
Relocate Things
The first chore waiting for you by the time you enter the kitchen is to arrange all things in place and put away stray items, such as chargers, keys, or nail cutters. It means the things that do not belong to be held in the kitchen must be shifted to their respective place.
A Quick Refrigerator Check
You must dispose of expired food items and extra platters, or bowls from the refrigerator to get extra space for newcomers, such as fresh vegetables, fruits, or dairy.
Wipe Counters/Appliances
Another primary task is to wipe down the countertops where you place your wet dishes and cutlery for air drying. You must wipe countertops every time after use to prevent bacteria growth and achieve a tidy space for making dishes. Also, a quick wipe on appliances is crucial to remove the daily splatters and stains.
Wash Dishes/Sink
Start washing the dishes that regular ones, such as plates, bowls, and usual tea cups, go in the dishwasher. On the other hand, large, delicate, or sensitive dishes from soft hands. Remember to clean your sink area with dish soap and hot water to prevent germs inhabitation and to obtain a clean space for food preparation.
Clean Stove and Burners
Do not forget to remain the stove and burners as it is. The accumulation of all-day grease makes it awful to cook fresh food. Wipe the stove tops and burner buttons for a clean look.
Sweep Floor
Cleaning kitchen flooring is as necessary as the dishes. Without it, your kitchen would not present a decent look. The simple way to sweep the floors and go on collecting the spills and crumbs and throwing them in the trash to get a neat space to place a foot on.
Empty Trash
What's the work of an overloaded trash bin in a cleaner kitchen? Just nothing. So, what you must do is pack all the garbage in bags and leave it to the local community bins to get collected.
Weekly Kitchen Cleansing Checklist
Fix an appointment to spend almost an entire day getting deeply close to your kitchen and make it retrieve its spark that goes lost in the daily grind. The weekly cleaning of the kitchen involves deeper chores you must free your time to do.
Pay Attention to Appliances
You must think that a week has over, and it's time to deep-clean appliances to get them ready for the following seven days. It includes a microwave, toaster, refrigerator, and sandwich maker. The practicing cleaning technique may differ, but a standard cleaning solution may work wonder in removing dirt spots.
Clean Sink and Fixtures
Sink deep cleaning falls in the weekly checklist and involves scrubbing the sink, surrounding tiles, faucets, and detergent holders. At the same time, treating your sink with a hot water bath and vinegar and baking soda solution is the best treatment.
Clean Garbage Disposal
You may flush cold water in a garbage disposal daily in the hope to prevent the daily food items from getting accumulated. But every week, you must put ice cubes into it to increase the blades' efficiency or remove leftover debris. In addition, you may also put lemon or citrus rinds inside to let the machine emit a pleasant odor.
Sanitize Sponges
The sponges you may wash dishes or similar items with are needed to be germ-free. The only way to do this is to soak them in a vinegar solution for five minutes and then bathe in warm water. Wash the sponge and let it air-dry to get a disinfected one.
Take Kitchen Towels to the Laundry
The kitchen requires dish clothes and towels for many purposes. Also, these clothes get dirty with constant use. What you must do is toss them into the laundry for effective cleaning every week.
Monthly Kitchen Cleaning Checklist
A monthly cleaning routine gives a boost to your kitchen for the next thirty days. You prepare your kitchen for festivals seasons, parties, and get-togethers. So, it is necessary to look at each and everything in detail and bring a whole new spirit.
Clean Cabinets
Your kitchen cabinets and drawers are of utmost importance in holding a variety of cutlery or crockery items. Start by dusting the exteriors using a damp rag and a gentle cleaning solution.
Then, you must take out drawer dividers that magnetize enough debris to be cleaned.
How you get easy to access all depends on how you organize things in an arranged manner. After doing, arrange all the things to their desired destination to ensure easy access every time you take out one of the items.
De-clutter Pantry
De-cluttering the pantry makes you cut the things that are no longer used in the entire month. Plus, it allows you to bring home only those things that have frequent use in your daily routine. You can start by removing expired items and also arrange the things to ensure quick access to the needed ingredients.
Freezer Check
Since the refrigerator is used in everyday routine for exchanging or keeping daytime cooked food or nighttime meals, freezers are home to meat, frozen items, and a variety of chocolates. Take a glance at the color check of the meat and estimate whether it is usable, and decide accordingly.
Wash and Sanitize Bins
Another important chore you can do is to empty the trash cans not only to lighten them but for the sake of washing them. You may pack the garbage into trash bags but the surface remains with traces. Bin washing after a month becomes necessary to ensure no bacteria growth.
Yearly Kitchen Cleaning Checklist
Sticking to the daily, weekly, or monthly kitchen cleaning makes your kitchen an all-time ready go-to place. Also, you focus only on those things that need repair or replacement after a year.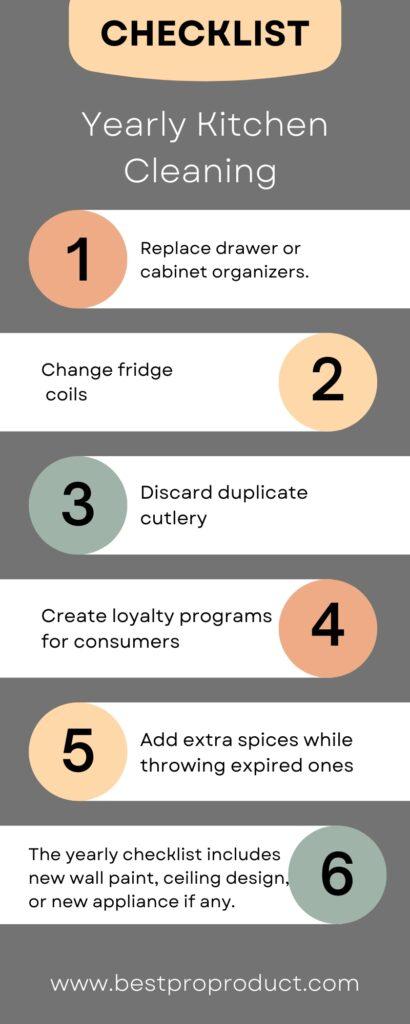 How to Stick to a Kitchen Cleansing Checklist? 5 Useful Tips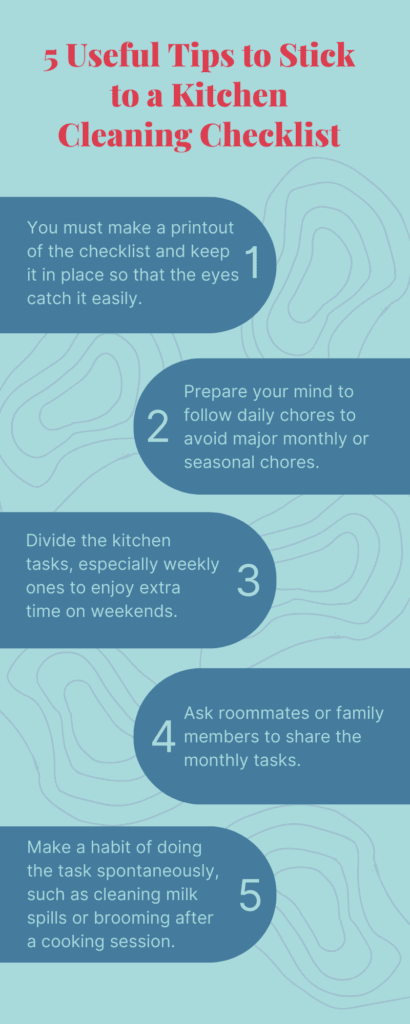 Conclusion
The guideline includes general recommendations to make your kitchen from ordinary to extraordinary. Plus, an inspiring one, where every corner radiates freshness, appliances rejuvenate their shine, and everything from cutlery, towels, dinner set, and spice jars seems falling in place. Although the above-mentioned checklist is for everyone, even then I suggest you make yourself a one-per preferences and cooking routine by adding or subtracting the desired cleaning tools.
Asad is a garbage disposal enthusiast, mechanical engineer by education, and the visionary founder of Best Pro Product. Asad's journey has seamlessly blended his engineering acumen with his passion for kitchen gadgets, leading to the creation of a go-to online platform for homeowners and DIY enthusiasts seeking expert guidance on garbage disposals. His meticulous research, hands-on testing, and insightful reviews have established him as a trusted authority, while his commitment to sustainability resonates through his advocacy for proper waste disposal and reduced food waste. Asad's interactive engagement with his community and his penchant for experimenting with new recipes make him not just an online resource but a friendly companion for those navigating the world of kitchen appliances and eco-friendly living.