Does combining a farmhouse sink and garbage disposal under one cabinet seem confusing? Not to worry about, as they go well with the proper instructions follow-up. Recently, I remodeled my kitchen set up with the duo, and believe me the best decision I ever took. Are you interested in knowing: Do Farmhouse Sinks Have Garbage Disposals?
Farmhouse sinks are uniquely designed to give your kitchen an excellent appeal but do not marginalize you from having a garbage disposal. Yes, you can have disposal units with farmhouse sinks. A few considerations you must be aware of are the space under sink cabinets, the size of the flanges, and the disposal's size.
The article covers the primary requirements under which you can have a farmhouse sink with garbage disposal. In addition, how you can configure the best type of garbage disposal is interesting to know.
Can you have a Garbage Disposal with a Farm Sink?
Being the invention of the modern era, garbage disposal comprises every facility so that you get the most out of it. Generally, all disposals fit well with farmhouse sinks. However, you need to know the particulars about the sink and disposal before adorning the combination.
Under-Sink Space
Suppose you have decided to install a garbage disposal with a farmhouse sink. Do you think about the intricacies it comes along with? If not, pick one argument about what measurements you require to provide your disposal with a spacious shelter.
If you pen down the countertop dimensions, such as 3 feet or 36 inches average, and subtract the depth that the farmhouse sink will cover along with the space allowance of cabinets, you have left with approximately 18 inches, which is enough to install a medium-sized garbage disposal.
Flange Dimensions
A farmhouse sink garbage disposal flange is a ring that functions to connect the garbage disposal and sinks. It is manufactured from stainless steel and is an essential part of the garbage disposal kit. In most cases, flanges or trim fit all sink openings, including farmhouse sinks of 3 ½ inches.
Pro Tip: remember not to over-tighten the disposal flange during installation, for it causes the sink to crack.
The only situation you make it purchase from outside is when the compatibility between your sink opening and garbage disposal deviates. Such happens in thicker farmhouse sinks, such as fireclay sinks. So, what you have to do is to choose extended inches, such as 3/4 or 1 ¾ inches of flanges, and make your best combination serve you in the best possible ways.
Garbage Disposal Size
Cherishing the perks of the modernly designed kitchen is not as simple as you think, it takes a lot of effort to pay attention to minute details, such as what size garbage disposal will match the best with the farmhouse sink. For example, you can readily put your fingers on InSinkErator Evolution Excel Garbage Disposal, having 13 inches in height with good-quality design material and sound insulation.
Extra Information: Extended flange for Garbage Disposal or plumbing setup may affect available space under your sink.
How do you Install a Garbage Disposal on a Farmhouse Sink?
Garbage disposal installation on a farmhouse sink requires manpower having considerable plumbing knowledge. The process is simple, but you need to install everything in its place to avoid frightening situations. To do so, you must turn off the power and water supply of your kitchen room.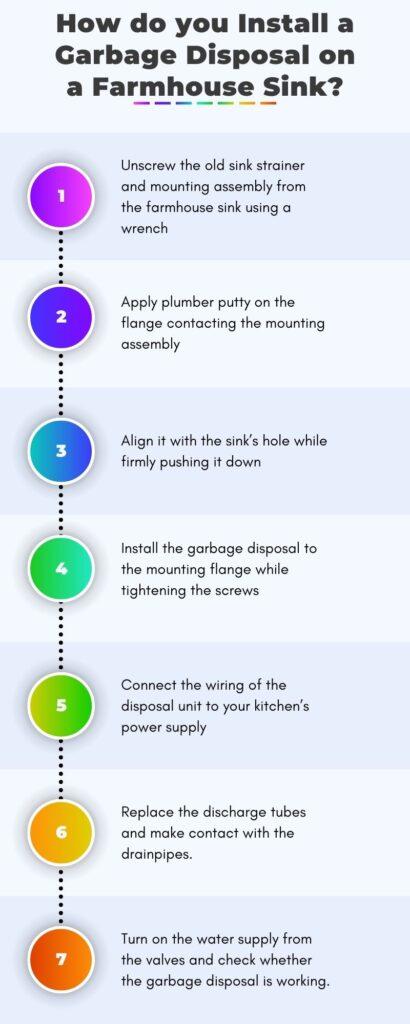 Can Farmhouse Sinks Have Garbage Disposals?
Yes, farmhouse sinks have disposals. But before you decide on hunting special addition, note down these specifications.
Garbage disposal suit well with farmhouse sink having 3/4 HP to at least 1 HP.
Ensure that your kitchen base cabinet has enough space to accommodate a big motor-size garbage disposal
For farmhouse sinks, consult your plumber for a compact disposal
Check the size compatibility of the flange or garbage disposal.
Note: For more information Read Best Garbage Disposal for farmhouse sink.
What Kind of Garbage Disposal for Farmhouse Sink?
The search for finding best garbage disposal for farmhouse sinks is a daunting task. Unless you do not know what categories, they are divided into, the decision will not be worth your time and money. Garbage disposal is based on two types depending on the way they dispose of the waste: batch feed and continuous feed.
Firstly, learn the factors that make them different from one another and later on decide the most suitable for farmhouse sinks. Continuous feed possesses a small size and does not need a stopper to operate. Instead, it disposes of the waste as long as the power is supplied, which means you can put food items at any time while it is running.
On the other hand, Batch feed grinds food particles in batches. You feed the disposal, cover the opening with the stopper and command it to convert the substance into fine particles. Indeed, it is time-consuming, but the safest option for everyday use.
So, what you find most compact garbage disposal for farmhouse sink is continuous feed. Since it occupies a smaller grinding chamber with less height relative to batch feed, creating no problem during installation.
Do all Garbage Disposals Work With all Sinks?
The majority of the kitchen sinks have standard openings and flanges, so garbage disposals can easily fit into the holes. What you must consider is the space beneath the sink, which are not of the same height. Logically, all garbage disposals do not work with all sinks.
What is the Difference Between a Farmhouse Sink and a Regular Sink?
A farmhouse sink and a regular sink have a major identification difference. The former comes in numerous designs with numerous materials, such as fireclay, casted iron, or stainless steel. On the other hand, you can notice that standard sinks are durable when made up of porcelain or stainless steel.
Summing Up
As the farmhouse sinks have a fan following, so do the garbage disposals. Both are designed to work in harmony only when you keep in mind the significant key points regarding the disposal flange, the material of the farmhouse sink, disposal height, and spacious accommodation. In this article, I have tried explaining the average dimensions so that you can understand them better.
Asad is a garbage disposal enthusiast, mechanical engineer by education, and the visionary founder of Best Pro Product. Asad's journey has seamlessly blended his engineering acumen with his passion for kitchen gadgets, leading to the creation of a go-to online platform for homeowners and DIY enthusiasts seeking expert guidance on garbage disposals. His meticulous research, hands-on testing, and insightful reviews have established him as a trusted authority, while his commitment to sustainability resonates through his advocacy for proper waste disposal and reduced food waste. Asad's interactive engagement with his community and his penchant for experimenting with new recipes make him not just an online resource but a friendly companion for those navigating the world of kitchen appliances and eco-friendly living.