What would be your choice if you entrusted an option to buy either Evolution Supreme SS or Excel from InSinkErator? Since all the models of this category perform extraordinarily, choosing one must be a difficult task for you. But not now, as I elevate your stress by reviewing two similar-looking machines, that is InSinkErator Evolution Supreme SS vs. Excel.
Both InSinkErator Evolution Supreme SS and Excel have commonalities, such as better sound insulation, 1 hp horsepower, stainless steel construction material, and continuous feed. You must think about where the primary difference lies. Reviewing both one by one personally, I found that Evolution Excel earns higher scores by incorporating better performance regarding auto reverse, jam sensors, and its availability to every outlet.
Both InSinkErator garbage disposals serve well to consumers with their exclusive features. Even if you find difficulty in selecting the best for yourself, read the article to dissect the points explaining how one is worthy over the other in adorning your kitchen setup.
Comparative Analysis
Here, is the bird's-eye view before a fully detailed comparison of the primary differences that make both appliances separate entities.
Performance: Evolution Excel performs better because it has jam sensors and auto-reverse technology while its competitor does not.
Accessory: Excel comes with an option of having a pre-installed power cord, but you must buy it separately in the case of Supreme SS.
Availability: InSinkErator Excel is available widely in most stores whereas Supreme SS is sold only through Home Depot.
Price: Excel disposal units are priced higher than Supreme SS disposals.
Insinkerator Evolution Supreme SS vs. Excel
As I mentioned, InSinkErator Supreme SS and Excel are similar looking, you must face a hard time while selecting the one for your kitchen requirements. So, let's dive into the comparison to help you make an informed and wise decision.
1. Excel and Supreme SS Do not Share the Same Color Shades
Finding the differences between how both garbage disposals appear before the eyes gives you no benefit, for both disposal units have their final destination under the kitchen sink cabinet. But both Excel and Supreme have surprisingly elegant lookbooks showcasing the professional look with a silver band in the center for branding.
However, one difference that I like to mention is the availability of both garbage disposals in different color shades. Evolution Excel has a design of grey and chrome colors while the Evolution Supreme SS has dark red hues. Also, the lower design of the Excel's pre-attached power cord makes you recognize both in one go.
Final Verdict: The design or color of the garbage disposal is not a logical factor in defining the major differences.
2. InSinkErator Excel Performs Better than Supreme SS
In the battle of making one garbage disposal superior, you must know the features to tackle various complexities, such as clogging, jamming, not working, or whatnot. Typically, both disposers are considered premium models and have premium features, but InSinkErator Excel is a step ahead in overall performance.
Apart from providing one horsepower, Excel also offers auto-reverse or jam sensor technology. The focus of these features is to identify or sense the chances of clog formation shortly. At the same time, auto-reverse technology reverses the action by changing the rotation of blades so that garbage disposal faces no hurdle in food grinding.
On the other hand, Supreme SS is not only devoid of these technologies but also puts the garbage disposal at stake. It means any food that goes down the grinding chamber can become the cause of the clog and you must troubleshoot it to make your appliance work like before.
Final Verdict: The Excel garbage disposal performs better, identifies the clogs, and does work for reversing it, than Supreme SS.
3. Excel Comes with a Pre-installed Power Cord
Dedicating the crucial place to garbage disposal in your kitchen is not without knowing how diligently it contributes to food grinding. In this regard, the availability of the power cord with the disposal unit increases the buying factor.
The matter of fact is that Excel provides you access to the option of choosing the unit with or without the power cable. On the other hand, Supreme SS does not have included cord nor it gives you the option to get one. In fact, you must buy it separately if selecting the unit.
Final Verdict: InSinkErator Excel is worth purchasing as it comes with a power cord while Supreme SS does not.
4. Supreme SS Comes with an Antimicrobial Sink Baffle while Excel Does not
What if you found that a non-removable sink baffle is present in both garbage disposals, how do you find the contrastive statement? Start by looking at what is missing from the puzzle, that is the material from which the sink baffle is made.
Supreme SS has more to say in the section as it comes with an antimicrobial one to protect the disposer from bacteria growth and make it decay-free. On the contrary, Evolution Excel has no antimicrobial sink baffle, hence lacking the guarantee to keep the disposal unit distanced from wear and tear.
Final Verdict: With an antimicrobial sink baffle, Supreme SS protects the disposal unit from bacteria growth better than Excel.
5. Excel is more Expensive than Supreme SS
As both garbage disposals are members of the InSinkErator luxury series, and so does they are priced higher than regular ones. Narrowing down the pricing factor, Evolution Excel is priced more than Supreme SS due to the availability of features.
Final Verdict: Evolution Excel cost you more than Supreme SS
Insinkerator Evolution Supreme SS vs. Excel Review
Both Evolution Supreme SS and Excel share the same specifications and you must give it a detailed read.
Evolution Prestige vs Excel | Similarities
Feed Type: Continuous Feed Type
Horsepower: 1 HP
Grinding Stages: multi grind
Mounting Assembly: 3-bolt
Motor: Dura-drive Induction Motor
Sound Insulation: Advanced SoundSeal technology
Construction Material: Stainless Steel
Grinding Chamber Capacity: 40 ounces
Speed: 1725 RPM
Warranty: 10 years
Grinding Power
As you know, the grinding power of the garbage disposal includes the collective values of the horsepower, grinding chamber capacity, and motor speed. Both garbage disposals use a 1 HP Dura-Drive induction motor that rotates the impellers at 1725 RPM and gives a much-needed food pulverization that leaves no traces of any leftovers. Because they have multi-stage grinding chambers, they are powerful enough to handle food waste for more than five to eight members.
In addition, the continuous feed-type disposers have a grinding chamber capacity of 40 ounces. It means you can fill the disposal unit up with chicken bones, vegetable scraps, and fruit peels to this extent without waiting for the entire day to dispose of food through an electrical machine. There is no garbage disposal in the industry other than these two that score constantly higher performance.
Installation
While you may stress on your nerves about how to install the garbage disposal, both Supreme and Excel let you relax as they come with a 3-bolt mounting assembly. It is a particular type of mounting system with twist and lock technology through which you can easily install the garbage disposal under the kitchen sink.
As the dimensions of both the garbage disposals are equal, that is 13-inch height or 9-inch width, you can easily carry out the installation by lifting the disposal to the sink and locking it into the sink flange. You can do it by tightening the 3 bolts as the name suggests.
Sound Insulation
Evolution and Supreme are the heirs of the InSinkErator Quiet Series and are equipped with Advanced SoundSeal technology. So, you cannot neglect them saying they create a lot of noise. The reality is that both garbage disposals reduce the noise level to only 40 decibels and let you carry food waste disposal smoothly without distractions.
Build Quality
Both Supreme SS and Excel are constructed from the alloy, that is stainless steel material. The quality of the material ensures long-run build quality by providing a guarantee against corrosion prevention.
In addition, the grinding components, like lugs, impellers, or swivels are also made of stainless steel material, and are robust enough to tolerate usual wear and tear in response to the stubborn food particles aiming to deform them.
Warranty
InSinkErator premium models let you enjoy the workaholic machines and come with a 10-year warranty. Indeed, it is the longest period InSinkErator offers for its models. In addition, the warranty has a special category; in-home. It means you can get troubleshooting service free of cost and even refund the money in the case of total failure.
InSinkErator Pro 1100XL vs. Evolution Excel
There are a few differences between InSinkErator Pro 1100XL and Excel, you must want to know.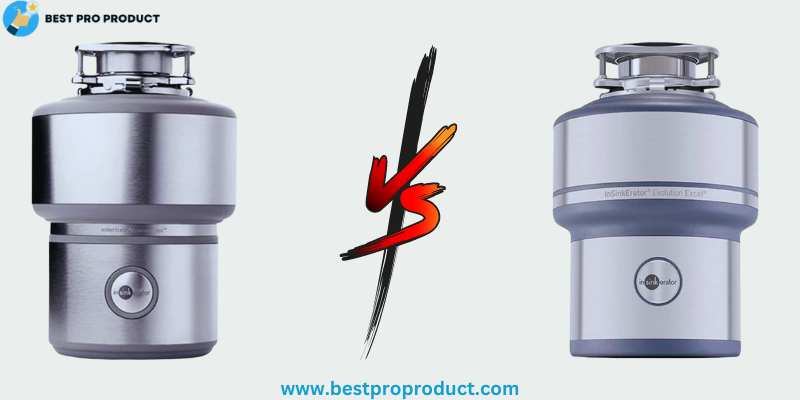 Pro 1100XL use 1.1 HP whereas Excel comprises only 1 HP.
InSinkErator Pro draws more current and has a slightly heavier disposal unit than Evolution Excel.
Pro 1100XL model covers 12 years of warranty while Evolution Excel covers only 10 years.
Over To You
Declaring Evolution Excel a winner is justified, for the extra features it comprises against Supreme SS. This article is a clear demonstration of my contrastive viewpoints between two disposal units. However, you can list down your requirements and select one. If longevity is your concern, you must choose Supreme SS which does not let the appliance decay fast, else you can go with the Excel garbage disposal while finding the option of a power cord as a benefit.
Asad is a garbage disposal enthusiast, mechanical engineer by education, and the visionary founder of Best Pro Product. Asad's journey has seamlessly blended his engineering acumen with his passion for kitchen gadgets, leading to the creation of a go-to online platform for homeowners and DIY enthusiasts seeking expert guidance on garbage disposals. His meticulous research, hands-on testing, and insightful reviews have established him as a trusted authority, while his commitment to sustainability resonates through his advocacy for proper waste disposal and reduced food waste. Asad's interactive engagement with his community and his penchant for experimenting with new recipes make him not just an online resource but a friendly companion for those navigating the world of kitchen appliances and eco-friendly living.